Mow Down Hunger in Southeast Michigan Classrooms and Homes
Help feed kids, wherever they are learning
---
For 11 years, the Mow Down Hunger matching gift campaign has played a critical role in providing at least 1 million meals to kids returning to school. Every school in Southeast Michigan has kids who struggle with hunger, and due to the pandemic, Feeding America is projecting childhood hunger to reach nearly 1 in 4 children this year. COVID-19 may result in many devastating effects—but childhood hunger does not have to be one of them.
Gleaners is working with school districts to employ a variety of distribution models to meet their unique needs to provide the nutritious food our kids and their families deserve. With your help, we can provide children the reassurance that whether they are learning, in-person at school or virtually at home, our community will be there for them no matter what changes occur this year.
Weingartz, a Michigan-based and family-owned provider of outdoor power equipment, has stepped up again this year to match your donation – dollar-for-dollar – during the Mow Down Hunger Campaign to provide up to 1 million meals to hungry kids! Every dollar given provides SIX meals for kids and their families, some of whom have never needed support before and otherwise wouldn't know where to turn.

Two words that should never go together: children and hunger.
Before the pandemic struck, hunger affected more than 310,000 children in Southeast Michigan, who typically eat two of their three daily meals at school for free or at a reduced cost. Now, with many schools relying on virtual or part-time in-person instruction, it's even more important to get children the meals they may be missing by staying at home.
This is where Gleaners, through the support of donors like you, steps in:
Emergency Food Distribution Sites:
Gleaners is continuing to provide emergency food boxes and operate drive-through distribution sites to remain a reliable food source for families struggling throughout the pandemic. Across the five counties it serves, from urban to rural regions, Gleaners has been serving an additional 50,000 households each month through these emergency efforts.
These sites offer balanced nutrition – including fresh milk, fruits, vegetables, lean protein and shelf-stable items – with no appointment necessary and built on a "no contact" model. Most of these sites operate every two weeks, 5-6 per day, Monday through Friday (and alternating Saturdays).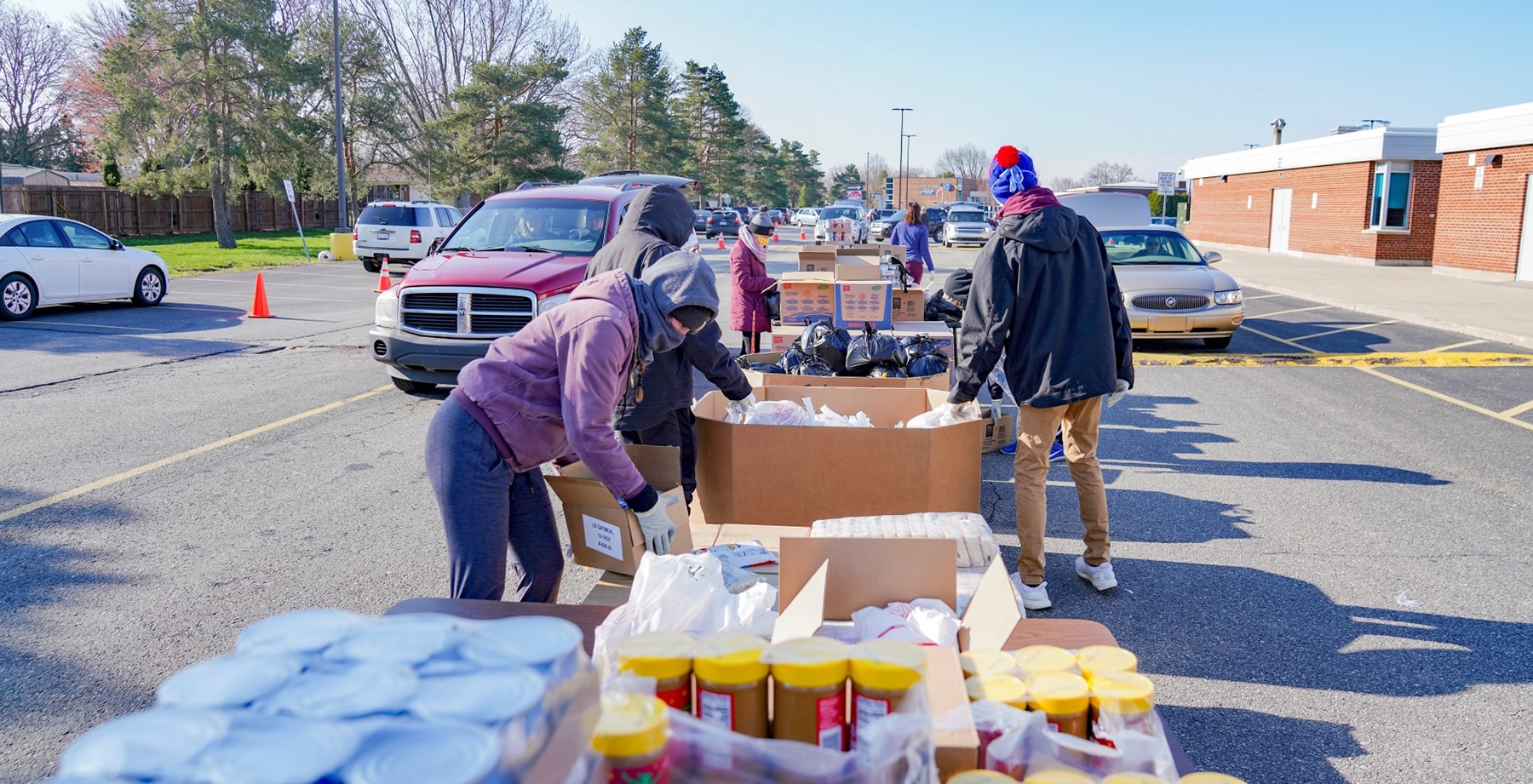 School Food Mobiles:
Gleaners' School Food Mobiles serves 276 schools and Head Starts through 86 distribution sites, providing nutritious, healthy food to students and families. Each School Food Mobile visit supplies 75-100 families with up to 30 pounds of food, including fresh milk, vegetables, fruit, whole grains and lean protein. This program also includes a nutrition education component that offers food demonstrations, tastings and take-home recipes for participants.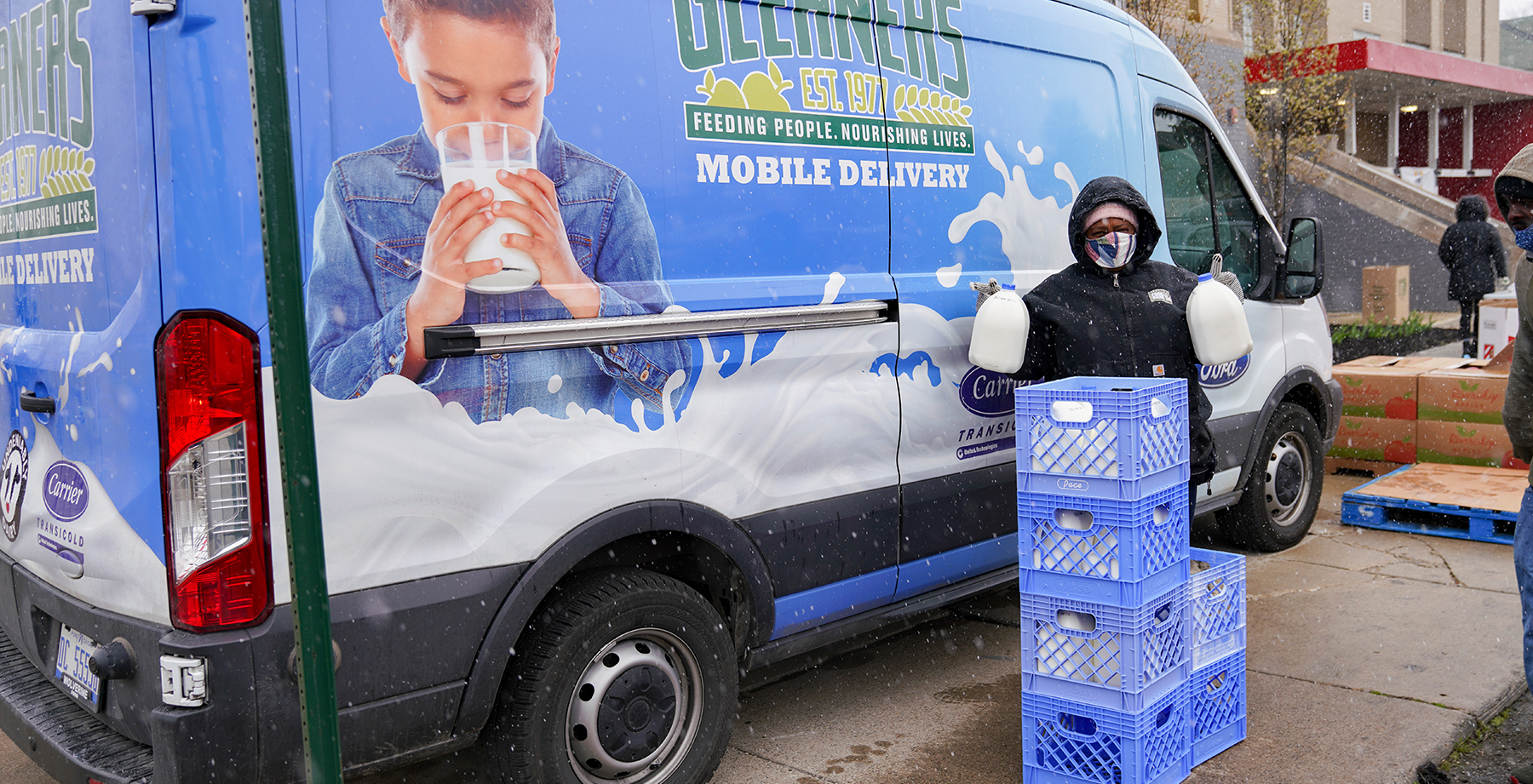 BackPack Program:
This fall, thousands of hungry schoolkids will receive a BackPack on Friday afternoons filled with enough food to supplement well-rounded meals over the weekend.
Each BackPack, filled with fruit, vegetables, healthy proteins and grains, weighs approximately five pounds and includes nutrition education materials, recipes and meal plans for the food provided and information helpful to low-income families.