Originally posted in Harvest 2022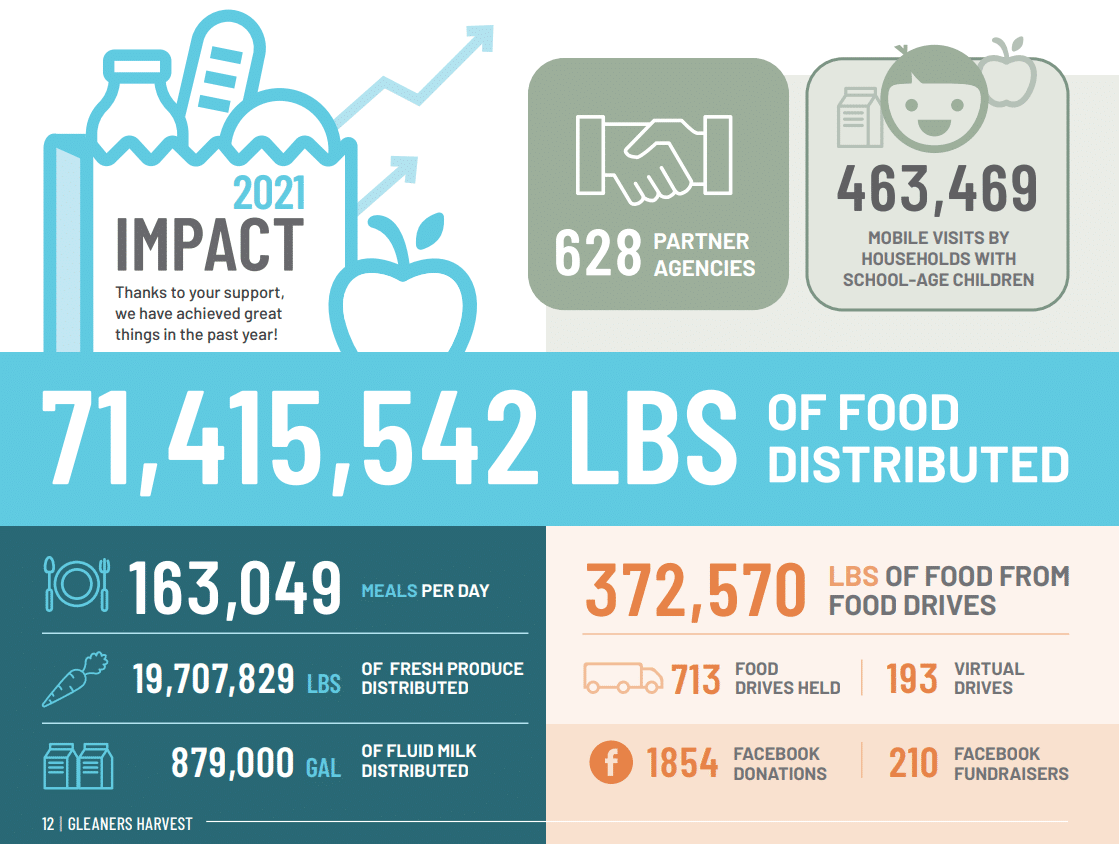 Within the pages of the 2021 Gleaners Harvest Magazine & Annual Report, Gleaners announced another record-breaking fiscal year, distributing 71.4 million pounds of food across five counties in Southeast Michigan from October 2020 to September 2021.
To put this massive number into perspective, if the average bowling ball weighs 11 pounds, that's the equivalent of 6.5 million bowling balls. Or, in terms of the heaviest animal in the world, that's the weight of 230 blue whales.
In the world of food banking, that equates to more than 163,000 meals per day. Included in that total are nearly 20 million pounds of fresh produce and 879,000 gallons of fresh fluid milk. Our distribution numbers tell a story about the impact Gleaners has when we work alongside our partners and community to provide nutritious food to our hungry neighbors. This includes our ongoing mobile distributions, meal sites, and our network of more than 600 partner agencies, including soup kitchens, food pantries, and shelters.
The food we source, store, and distribute goes to children, families, seniors, veterans, low-income medical patients, and others who are facing food insecurity. At a time when inflation is reaching unprecedented heights, Gleaners remains a resource for anyone who needs help putting food on the table. Keeping accountability, quality, and dignity at the forefront of our efforts, Gleaners was recently recognized by Charity Navigator, the world's largest and most trusted nonprofit evaluator, with its highest 4-star rating.
Gleaners could not have made such a great impact in 2021 without your support. Thank you for standing by Gleaners' side in our mission to provide households with access to sufficient, nutritious food, and related resources. Please consider making a donation or signing up for a volunteer shift to help Gleaners continue our impactful work in 2022.
---