Several Gleaners team members got their start in nonprofit work and serving the community by joining AmeriCorps, a national program that engages volunteers in years of service.
In honor of AmeriCorps Week, they shared their #MadeInAmeriCorps stories.
HEIDI'S STORY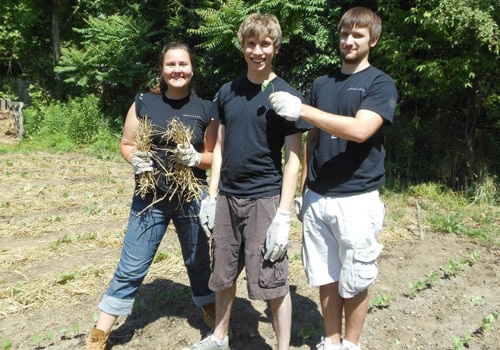 I served from 2011-13. For my first year of service, I worked with City Year Detroit as a literacy coach and afterschool coordinator. For the second, I worked with United Way to support their volunteer management team leading and facilitating volunteer groups. I joined AmeriCorps because I wanted to work to support my community and make the lives of children better and healthier!
My favorite memory from AmeriCorps is when I went on a weekend retreat to Traverse City and supported a local nonprofit farm!
My years of service helped me figure out what my dream job would be. From my experiences, I decided that working with families and continuing my career in nonprofit work was going to be a part of my career future, and now it is!
EVAN'S STORY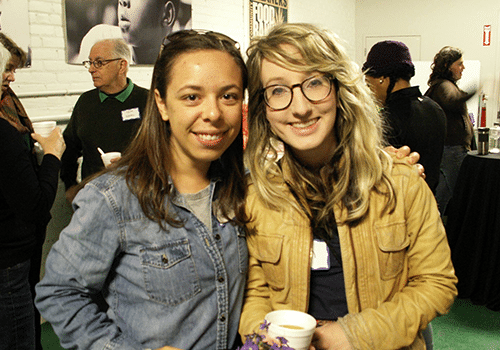 In 2016, I had the privilege of working for the Cooking Matters program as an AmeriCorps member. I loved having the opportunity to connect with my community by teaching nutrition education and cooking instruction, especially since I love food! It was fun sharing recipes, cooking stories and tips with the participants, and I always felt like I was learning just as much as the people around me were. Before I joined AmeriCorps I was working for a supermarket, and although I enjoyed the customer service aspect of things, I felt like I wasn't being challenged and needed more meaning to the work I was doing. AmeriCorps really filled the gaps and made me feel like I had a positive impact on people's lives.
My favorite memory during my AmeriCorps service year was when I was approached by one of my senior participants. This participant wanted to share with me that our Cooking Matters classes, along with guidance from her doctor, helped her take charge of her diabetes diagnosis and that she was on track to being taken off her medication! I was so proud of the work that this participant had done to get to where she was, and it was an honor getting to be a part of it. I feel as though the AmeriCorps program allows individuals to step out of their comfort zone and experience working directly with community members to increase their quality of life.
ALEXYS' STORY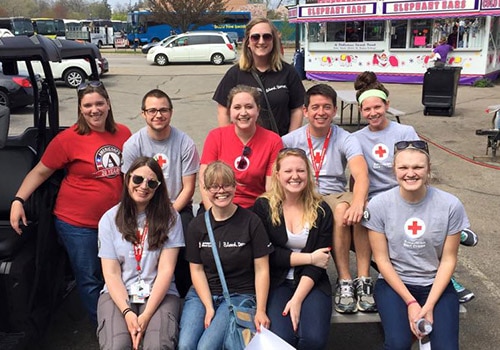 I did my AmeriCorps service September 2014 – August 2015 at the American Red Cross of West Michigan in Grand Rapids. I was the communications coordinator and for most of my year of service, I was the sole team member working on communications for Red Cross in the state. I managed the West Michigan chapter's social media, maintained the website and blog, and managed press relations, in addition to helping with volunteer coordination and disaster relief responsibilities.
In 2014, I was straight out of college and pretty clueless when it came to what I was supposed to do next. One thing was certain though: I wanted to help people. Enter AmeriCorps. I'd originally applied as a volunteer coordinator but upon interviewing, I was informed that a communications position was open and I snatched the opportunity.
Favorite memory: In May 2015, series of storms and tornadoes broke out in parts of Kansas, Oklahoma, Texas, and other Great Plains states. I want to say more than 100 tornadoes broke out in less than a week and it was devastating to many communities. Red Cross Disaster Relief teams were deployed from all over the country, including teams from the West Michigan chapter. I deployed with a fellow AmeriCorps member to Lawton, Oklahoma, for two weeks to help the communities that were impacted. We helped set up shelters, checked people into the shelters, assessed damage to homes, and provided resources to anyone who needed them. Even those this memory is obviously shadowed with the knowledge that people's lives were impacted by disaster, I consider it the most rewarding part of my AmeriCorps service. I connected with so many people on a deep level and heard dozens of incredible stories from those affected. It really helped shape my understanding of service and the mission of Red Cross.
Being an AmeriCorps member helped me realize that you can help people or a community everywhere you go, in big ways and small. It's as simple as offering a shoulder to cry on or lending an ear to someone who wants to share their story.
RENEE'S STORY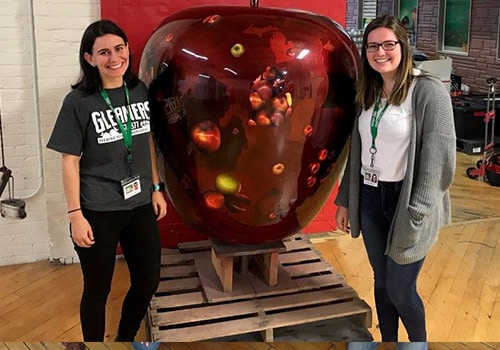 I am a current AmeriCorps member at Gleaners and I coordinate Cooking Matters classes.
I joined AmeriCorps because I have always been passionate about serving people in the community and especially educating the public about access to healthy affordable food.
My favorite AmeriCorps memory so far was conducting a grocery store tour where one participant was able to purchase a 14lb turkey along with 11 other items while still following the $10 challenge. Being able to see the lessons throughout the first four weeks of class help her provide a nutritious Thanksgiving meal for her family was inspiring for myself and all of the other participants in the class!
AmeriCorps has changed my perspective on everything that I do and I also see it change the lives of all our participants. Some have said that they are reducing the amount of waste in their kitchen, saving money while shopping, and even so far as to seeing positive changes in their blood pressure after taking the class. I love that what we are doing impacts the community in so many different ways.
GENEVIEVE'S STORY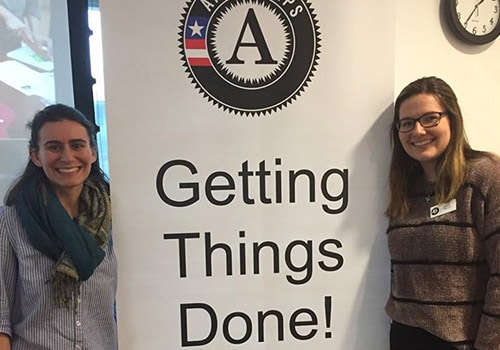 I'm currently an AmeriCorps members with Cooking Matters at Gleaners Community Food Bank. I joined AmeriCorps after I graduated from college, and I didn't like any of the job prospects that I had seen so far. I had worked at Gleaners previously, and I knew that I liked the work culture here. For me, a big part of choosing a life path is making sure that my work has an impact, and Cooking Matters AmeriCorps fit that bill perfectly. I didn't have any formal background in nutrition or cooking; they were things that I enjoyed reading about or trying out new recipes, so I'm very grateful for the opportunity!
So far my favorite memory is when we made a stir fry in class for chicken week, and we made a sauce for the stir fry. One of the participants had never made a sauce before in his 50 years of living, and he loved it! Watching people cook and try new foods that are healthy, and having them actually enjoy it is super rewarding!
My service so far has changed my life because I have learned so much about myself and the people around me; I feel more confident speaking in front of people and I know that my creativity is something to be valued. I'm able to narrow down what fields I'm interested in (community advocacy, but in different fields!), but as to a specific job title, that remains elusive! I still have a few months to figure it out.
DOROTHY'S STORY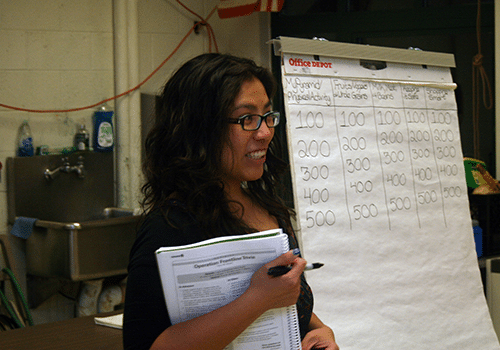 I did my year of service from October 2009-September 2010 here at Gleaners. I was a Cooking Matters (then called Operation Frontline) coordinator. We were a small and mighty team, which included my fellow AmeriCorps member, Diana, and Sarah Mills, who was a coordinator at the time, so in addition to coordinating on average 4 classes a week I did all of the volunteer management, class scheduling, and supply ordering.
I joined AmeriCorps because at the time I was really burnt out from my job as a copy editor at a daily newspaper and felt like my career was missing something. I had volunteered for Cooking Matters (then known as Operation Frontline) in the past and loved the experience so when the position of an AmeriCorps member came up, I quit my well-paying job to join AmeriCorps and it was one of the best decisions I ever made.
I have many fond memories of my time as an AmeriCorps member. But one that really sticks out to me was how food really brought people together at a class we did in Dearborn. The young moms were skeptical that they would learn anything because they were already amazing cooks, but by the end they were really engaged in the class and brought us homemade Lebanese food on graduation day!
Being an AmeriCorps changed my life because it helped me realize my passion for advocating for food justice in Detroit. That was what was missing from my career as a journalist and today I often write about food at the intersection of culture and social justice.
MOLLY'S STORY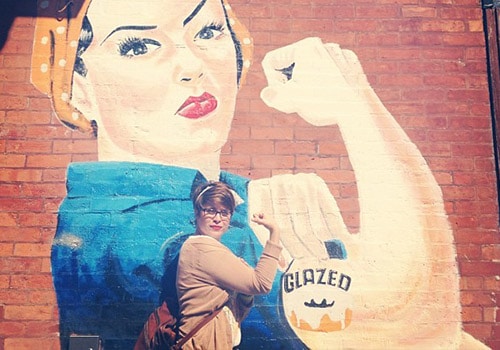 I did my year of service at Franciscan Outreach Soup Kitchen in Chicago, Illinois from August 2012-July 2013. I also lived in community simultaneously, living with 12 other people, 6 of whom worked at the connected homeless shelter, 5 of whom worked at the soup kitchen, and 1 who was our house "mom." Four of the 13 were from Germany and the remainder were recent college/graduate school students from the U.S.
I was a soup kitchen manager. We would plan the weekly menus, gather food donations, cook dinner for 150 guests, organize cleaning initiatives, oversee shower and laundry services for guests, oversee volunteers, and create a community for our guests who were mostly homeless.
I joined AmeriCorps because I have this innate love to give back to others. My dad was the executive director of a homeless shelter for women and children, in a small town in N.C. my entire childhood, so I would sometimes go to the office with him on the weekends for him to pick up mail or check in on one of the families. I also founded a volunteer group in high school where I set up volunteer opportunities and fundraisers for local and national nonprofits. My freshman year in college, I went to a Jesuit college and received a scholarship to volunteer 38 hours per semester. I chose to volunteer at a juvenile detention center. So I guess I just have a service heart? I just don't feel like myself unless I am giving back to someone else.
As an AmeriCorps, I really loved talking with the guests and learning their life stories. So many homeless people are ignored on a regular basis however they have stories to tell too! I really love music, specifically singing. I just graduated from college where I took piano lessons and a music history course on the history of R and B to Hip Hop. One of the guests played piano nightly after he would finish eating dinner. I would also play occasionally. We would sit and talk about music and how it informed our lives. He would also bring me piano music/lyrics that I still have!
Serving has changed my world view. I lived in a very popular neighborhood in Chicago and instead of knowing any of the "hip" people walking down the street, my friends were the homeless people on the street. I biked everywhere when I lived there (when it was warm enough) or took public transportation. They would yell out to me on the street and say hello. After my volunteer year, I stayed in Chicago for 2 more years and moved one neighborhood west. I would often take a lot of the same routes that would put me in contact with the same guests. One winter I was dealing with a personal issue and I ran in to one of my favorite guests whom I normally would joke around with and inquire about his addiction issues. Instead on that particular night, he wanted to check in with me and make sure that I was doing OK. He knew immediately that I was not, and was very concerned for me instead. Something that I learned is that when you think you are helping other people, in the end they are helping you too. The friends that you need the most are the ones who have the least.