DETROIT, Aug. 20, 2020 – Blue Cross Blue Shield of Michigan and Blue Cross Complete of Michigan are addressing food insecurity in Southeast Michigan with a $100,0000 donation to Gleaners Community Food Bank. Established in 1977 and headquartered in Detroit, Gleaners has decades of experience providing families in need with access to nutritious food and related resources. The organization operates distribution centers in counties and provides food to more than 500 partner soup kitchens, food pantries, shelters and other agencies throughout the region.
The $100,000 contribution will support two mobile, refrigerated fresh food transport vans to increase access to healthy food in Wayne, Oakland, Macomb and Monroe counties. Since April, the vans have been utilized daily to deliver perishable items like fresh milk, produce, and dairy to individuals and families in need through new distribution sites during the pandemic. One of the communities the vans will reach is the East Warren/Cadieux area of Detroit, the same neighborhood that Blue Cross is investing $5 million in through 2022, a pledge that will help inclusive neighborhood development through Detroit's Strategic Neighborhood Fund and Affordable Housing Leverage Fund.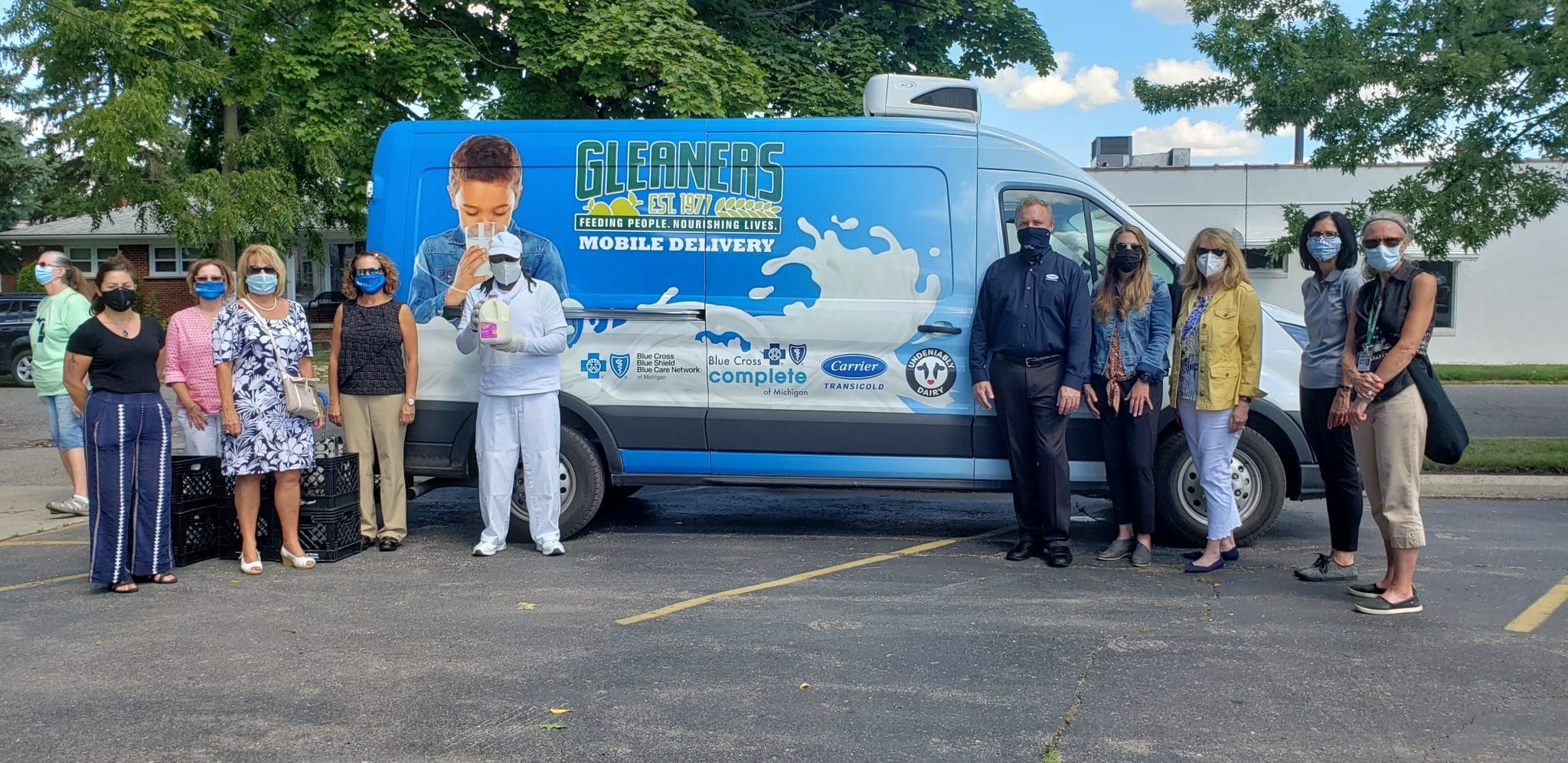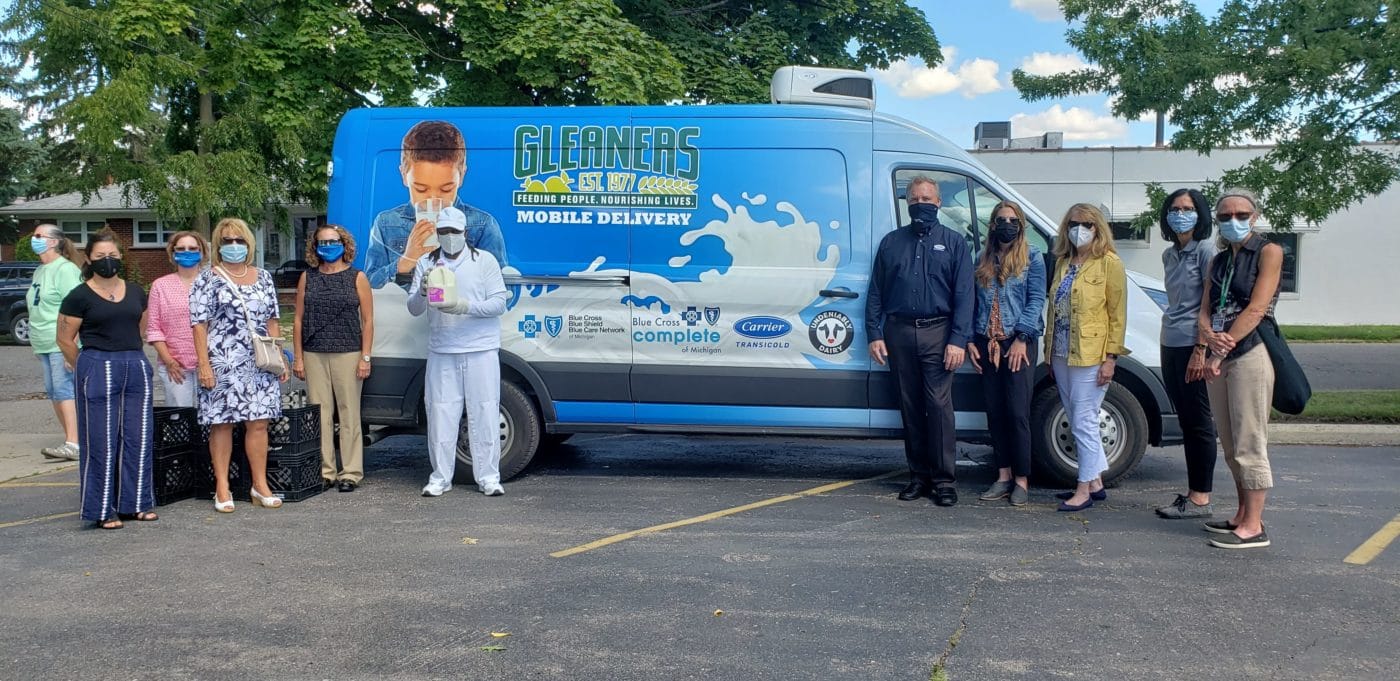 "Thousands of Michiganders in counties across the state don't know where they will get their next meal and that can lead to a variety of physical and mental health conditions," said Lynda Rossi, executive vice president of Government, Strategy and Public Affairs for Blue Cross Blue Shield of Michigan. "No one should have to worry about hunger and this collaboration with Gleaners will enable Blue Cross to meet those in need where they are, bringing nutritious food to their communities, making it more accessible to those who might otherwise go without."
Gerry Brisson, president and CEO of Gleaners Community Food Bank, said, "Since the onset of the pandemic, children, families and other vulnerable neighbors have faced new struggles to maintain their households. Blue Cross is offering vital support to help us meet record levels of need in the community. Through this continued partnership, Blue Cross is supporting Gleaners' ability to deliver nearly double the amount of fresh milk available to households in need through our COVID-19 response efforts and ongoing support of our network of partner agencies. This contribution from Blue Cross is helping Gleaners serve nutritious food to an additional 50,000 households each month and providing hope to our neighbors facing great uncertainty."
###
Blue Cross Blue Shield of Michigan, a nonprofit mutual insurance company, is an independent licensee of the Blue Cross and Blue Shield Association. BCBSM provides health benefits to more than 4.7 million members residing in Michigan in addition to employees of Michigan-headquartered companies residing outside the state. The company has been committed to delivering affordable health care products through a broad variety of plans for businesses, individuals and seniors for 80 years. Beyond health care coverage, BCBSM supports impactful community initiatives and provides leadership in improving health care. For more information, visit bcbsm.com and MiBluesPerspectives.com.
About Gleaners Community Food Bank
Headquartered in Detroit, Gleaners operates five distribution centers in Wayne, Oakland, Macomb, Livingston and Monroe counties and provides food to more than 500 partner soup kitchens, food pantries, shelters, and other agencies throughout southeast Michigan. Each year, Gleaners distributes more than 45 million pounds of food to neighbors in need. With increased food insecurity as a result of the COVID-19 pandemic, Gleaners estimates more than 60 million pounds of food will be distributed by the end of September 2020 through new emergency response efforts and continued support of community partners. Every dollar donated provides three meals and 92 cents of every donated dollar goes to food and food programs.