Written by: Chelsea Hansen
Most people know that calcium is an important nutrient to keep us strong. Not only is it essential for our bones and teeth, but calcium also supports cell, muscle, nerve function, helps regulate blood pressure and hormone levels. Despite this wonder nutrient's importance, too many people do not get enough. The body does not produce calcium, so it must be obtained through a healthy diet.
While dairy offers an easy source of calcium, those who suffer from a dairy allergy or intolerance, need to find alternative sources. Luckily, there are tons of healthy options out there that contain significant amounts of calcium. So, add these items to your next shopping list and cook up some tasty calcium filled meals!
Non-Dairy Calcium Sources
Cooked Spinach
Cooked Mustard Greens
Cooked Turnip Greens
Canned Sardines
Canned Salmon
Fortified 100% juice
Fortified Cereals
Fortified Tofu or other soy-based food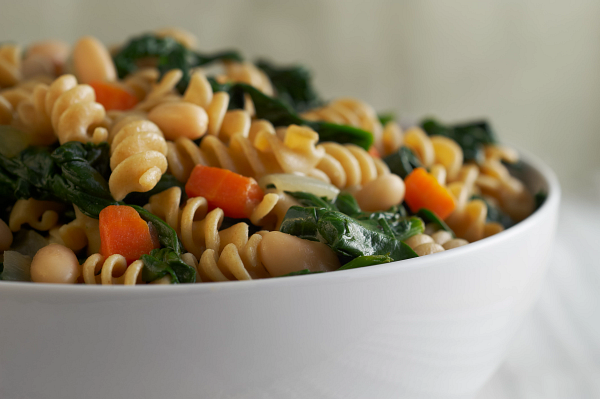 Pasta with Beans and Greens
30 minutes
12 servings
Ingredients:
1 (16-ounce) package whole wheat pasta
2 medium onions
1 carrot
3 garlic cloves
2 pounds/1 large bunch of greens (spinach, mustard greens, or turnip greens)
2 (15 ½ -ounce) cans great northern, cannellini, or lima beans
2 Tablespoons canola oil
1 teaspoon dried oregano
1 teaspoon dried red pepper flakes
¾ teaspoon salt
½ teaspoon black pepper
Instructions:
Cook pasta following package directions. Drain, reserving 1 cup pasta water. Set aside.
While pasta is cooking, rinse, peel, and dice onions and carrot. Peel and mince garlic.
Rinse greens, more than once if needed to remove all grit. Remove tough stems. Chop coarsely.
In a colander, drain and rinse beans.
In a large skillet over medium-low heat, heat oil. Add garlic, carrot, onion, and greens. Cook until onions are soft.
Add ½ cup reserved pasta water and seasonings. Cook until greens are tender.
Add beans to greens. If needed, add a little more reserved pasta water to make a sauce.
Add cooked pasta to beans and greens. Toss to combine. Cook until pasta is heated through, about 5 more minutes.
Sources: