Last year, Madison Electric launched a campaign to celebrate its 100th Anniversary and to raise funds which they donated to local charities – like Gleaners Community Food Bank.
Community partners, including the Comerica Foundation, came together to provide 75,000 meals to those in need in our community. Comerica Cares provided 15,000 meals in response to this charitable effort, and supported other important initiatives to feed hungry neighbors last year, including support of our annual Women's Power Breakfast, and gifts to efforts like our partnership with Radio Disney and the WJR and Celani Foundation's "Hunger Free in the D!".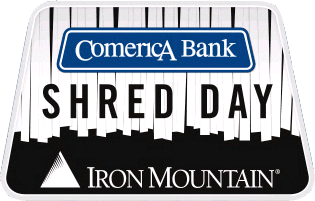 Every June, Comerica's annual "Shred Day" consistently brings in more than 1,500 pounds of food and support to provide another 3,000 meals – not to mention helping to bring awareness to hunger in our community in such a public way.
Each month, Comerica also sends 10 volunteers to help at our Detroit distribution center with the sorting and packing of food that is sent out to our partner agencies. This month, Comerica volunteers packed 6,859 pounds of food, helping to impact 5,830 lives.
We look forward to hosting two more Comerica Cares volunteer groups at our Warren and Taylor locations for Comerica's annual volunteer day, Saturday, September 26.
Thank you Comerica for your fine example of community involvement and helping those in need!