Program Overview

For participating seniors, CSFP provides more than just food and nourishment. It also helps to combat the poor health conditions often found in seniors who are at risk of hunger and experiencing food insecurity. CSFP helps vulnerable seniors from having to choose between food and other basic needs.
Senior food boxes are specifically designed to supplement needed sources of nutrients typically lacking in participants' diets. Boxes include foods such as cereal, juice, protein, milk, peanut butter, dry beans, potatoes, grains, rice, cheese, fruit, vegetables, and more.
You may qualify for a free monthly box of food through the USDA Commodity Supplemental Food Program.
Age: Participants must be at least 60 years of age.
Residency: Live in Wayne, Oakland, Macomb, or Livingston County.
Must not be enrolled in the Commodity Supplemental Food Program with another organization (e.g., Focus: HOPE, OLHSA).
Income: Each applicant must self-declare that their household income is at or below 130% of the US Federal Poverty Income Guidelines.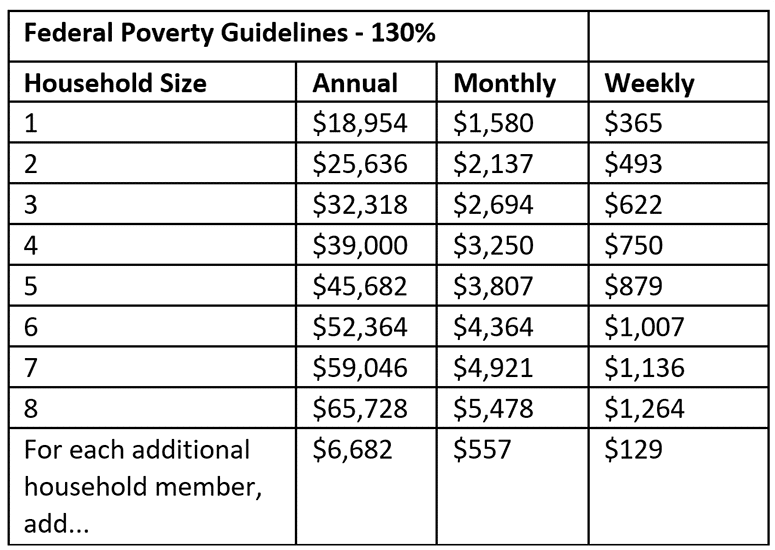 Food Partner Agencies
Gleaners partners with many organizations to enroll seniors and distribute food boxes. Is your agency or organization interested in providing monthly food boxes to your seniors? Please contact CSFP@gcfb.org or click the button below.
Participants
Participation in the program requires advance registration. To see if you qualify or to register for the program, please contact CSFP@gcfb.org or click the button below
Program Rules and Regulations
ID CARD: Participants must present a valid state- or federal-issued photo ID card each month when picking up their Senior Food Box.
ENROLLMENT: Participants are enrolled in the program for 3 years and are required to recertify their enrollment every 12 months. At recertification, participants must continue to meet all CSFP eligibility requirements in order to continue participating in the program.
CHANGES TO INFORMATION: Participants must inform Gleaners of any changes to their income or contact information, in writing, within 10 days.
ACTIVE PARTICIPATION: Participants who do not pick up their Senior Food Box for three (3) consecutive months will be removed from the program for being an inactive participant. We understand that circumstances may occasionally limit participants from picking up their senior food box (e.g. medical appointments, vacations, etc.). In these instances, please contact Gleaners as soon as possible to receive an absence exemption.
NOTICE OF TERMINATION: Participants will be notified in writing if terminated from the program and have the right to a fair hearing.
FAIR HEARING: If a participant is found ineligible for the program during a recertification review, they have the right to a fair hearing in accordance with the provisions of federal and state law.
USE OF FOOD: Participants are not allowed to trade/sell CSFP food, nor are they allowed to purchase/use someone else's CSFP food for their household.
USDA Nondiscrimination Statement
In accordance with federal civil rights law and U.S. Department of Agriculture (USDA) civil rights regulations and policies, this institution is prohibited from discriminating on the basis of race, color, national origin, sex (including gender identity and sexual orientation), disability, age, or reprisal or retaliation for prior civil rights activity.
Program information may be made available in languages other than English. Persons with disabilities who require alternative means of communication to obtain program information (e.g., Braille, large print, audiotape, American Sign Language), should contact the responsible state or local agency that administers the program or USDA's TARGET Center at (202) 720-2600 (voice and TTY) or contact USDA through the Federal Relay Service at (800) 877-8339.
To file a program discrimination complaint, a Complainant should complete a Form AD-3027, USDA Program Discrimination Complaint Form which can be obtained online at: https://www.usda.gov/sites/default/files/documents/USDA-OASCR%20P-Complaint-Form-0508-0002-508-11-28-17Fax2Mail.pdf, from any USDA office, by calling (866) 632-9992, or by writing a letter addressed to USDA. The letter must contain the complainant's name, address, telephone number, and a written description of the alleged discriminatory action in sufficient detail to inform the Assistant Secretary for Civil Rights (ASCR) about the nature and date of an alleged civil rights violation.
The completed AD-3027 form or letter must be submitted to USDA by:
Mail:
S. Department of Agriculture
Office of the Assistant Secretary for Civil Rights
1400 Independence Avenue, SW
Washington, D.C. 20250-9410; or
Fax: (833) 256-1665 or (202) 690-7442; or
Email: Intake@usda.gov
This institution is an equal opportunity provider.