Written by Olivia Barrera
The holiday season is officially upon us! Due to COVID-19, our holidays might look different this year with many families opting for smaller gatherings. This presents a unique opportunity to switch up the holiday classics and try out some healthy alterations.
---
We have compiled a sample menu of healthful, festive, seasonal dishes and drinks! See the slideshow below and click each image for the recipe:
Stove Top Macaroni and Cheese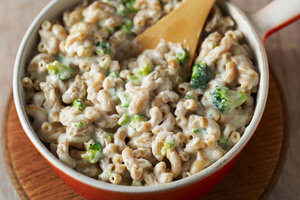 ---
Why consider making a change? Classic holiday menus are full of comfort foods which tend to be high in salt, added sugar, and saturated & trans fats.
High salt (or sodium) intake is linked to high blood pressure, heart attack, and stroke. 90% of Americans over the age of two consume too much sodium.
Added sugar can contribute to inflammation, heart disease, stroke, and other health issues. The most common sources of added sugars are sugary drinks, desserts, and packaged foods. Sugars found naturally in fruits, vegetables, whole grains, and dairy aren't considered added sugars and contribute to a healthy, balanced diet.
Consuming certain fats raises the risk of heart disease. These fats include trans fats (often found in processed cakes, icings, and many packaged snacks) and saturated fats (solid at room temperature, examples include butter, shortening, animal fat, coconut oil, and palm oil). Saturated fats and trans fats should be consumed in careful moderation.
Unsaturated fats are liquid at room temperature and mainly come from plant sources such as nuts, seeds, and olives, as well as fish. Unsaturated fats can improve HDL cholesterol levels, known as "good" cholesterol.
Visit these links for more information about sodium, added sugars, and fats.
---
There is no need to completely change your dinner plans, our sample menu is simply intended to provide inspiration!
We don't want you to miss out on your favorite holiday dishes because tradition is important – especially this year when so much else has changed. So here are some simple variations you can try to make your favorite holiday recipes lighter, more wholesome, and healthier:
Try adding one 15 oz can of chickpeas or other white beans per 2 pounds of potatoes in mashed potato recipes. Beans add extra fiber and protein, two nutrients that keep you full longer!
Use low-fat dairy options in mashed potatoes, baked goods, and dips. Low fat milk is just as high in calcium as whole milk but lower in unsaturated fats. The same goes for plant-based milks which are fortified with calcium.
Use whole grain bread for stuffing and leftover turkey sandwiches.
Decreasing unhealthy fats is as easy as opting for vegetable oil where you would typically use butter.
Make a delicious fruit dip as an appetizer using the Cooking Matters recipe.
Substitute half the mayonnaise, or more, with plain yogurt for recipes like dips and sauces. And dip with veggies or whole wheat crackers and breads!
Chill drippings for 20 minutes in the fridge or freezer to separate the fat before you make gravy. Use your baster to suction the top layer off.
Try reducing the amount of added sugar that goes into your favorite homemade sweets. Many recipes call for more sugar than needed and most desserts will still be plenty sweet with a few tablespoons less.
Try a Gleaners recipe; Apple Stovetop Stuffing, Squash Soup with Ginger, and Roasted Sweet Potato and Brown Rice Salad are great holiday choices!
Start with smaller portions and go back for seconds if you're still hungry. A good strategy for this is to use smaller plates and/or serving utensils.
For more healthy holiday recipe inspiration visit this site and for more tips to building healthy meals click here.