Happy Holidays from the Cooking Matters team! Last year, we did a post all about the different cultures of Detroit, winter holidays and food traditions. This year, we wanted to expand on the different cultures and food traditions to bring you recipe demonstration videos right at your fingertips! We lightened up a few things, began recording, and started posting our holiday series! To view the actual videos and series, be sure to follow us on TikTok and Instagram. Here, we compiled all our holiday recipes into one guide for you to explore!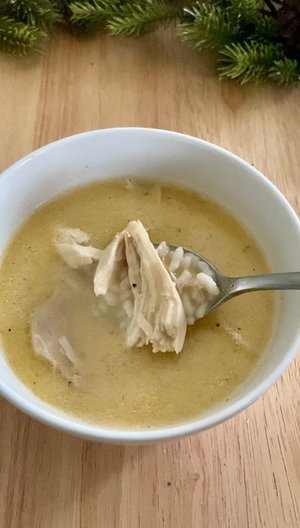 Hannukah: Potato Latkes
For this delicious latke recipe, we mainly followed everything from The Spruce Eats. To lighten this meal up a little, we recommend baking the latkes at 425 degrees Fahrenheit for about 18 minutes or until golden brown.
Bodhi Day: Sweet Sticky Rice
Our sweet sticky rice recipe was inspired by the one from Boy Eats World. However, we made our own rice by soaking white rice overnight in cold water, then cooking over the stove as usual. Our team also omitted the pandan leaf, and used light coconut milk to lessen the fat content. We reduced the amount of sugar used and opted to add more fruit to add to the sweetness from a more natural source of chicken.
Las Posadas: Sweet Tamales
Las Posadas is a Hispanic holiday that begins on December 16th and is celebrated until Christmas Eve. It is a religious festival that commemorates the journey of Joseph and Mary to Bethlehem. We decided to make sweet tamales with a few adjustments such as reducing the amount of sugar and substituting shortening for butter. These reminded me of a warm bread pudding mixed!
Armenian: Anoush Abour
This Christmas pudding recipe was inspired to celebrate the Armenian Christmas. This celebration is held on January 6th as opposed to December 25th. For this recipe, we used ½ cup of sugar, regular raisins, and omitted the apricots. Still turning out to be a delicious sweet soup!
Greek: Lemon Chicken Rice Soup
The recipe we followed came right from My Greek Dish! This soup can be used as a framework for any chicken-based soup, as it is very versatile and easy to follow. This recipe specifically calls for 1 2lb chicken, which can be difficult to find so small. Any size chicken should be fine to purchase and using the leftovers for additional dishes such as Chicken Chili.
Kwanzaa: Ground Nut Stew
This is a great dish to make for a large gathering! The recipe that we followed made enough for us to enjoy and freeze for later. It was packed with flavor along with hearty vegetables and plant proteins like beans and nuts. The peppers add a spicy kick that mixed well with the sweet and creamy peanut butter.
Polish: Uszka Dumplings
Traditionally served with beet soup, this recipe we followed from The Polonist. It is important to mention that Porchini mushrooms can be pricey, splitting the amount or replacing the amount with button mushrooms is a more affordable option to still get the taste with a fraction of the price!
Iraqi Date Cookies: Kleicha
This recipe for Kleicha we found and followed pretty much with no changes. We did use very active yeast which made cookies large. For a smaller cookie be sure to roll dough very thin. We loved the whole wheat flour option. Great way to increase fiber intake while enjoying a sweet dessert.
Hoppin John
Our very own recipe from Cooking Matters! This dish is great to put those Christmas leftovers to the test and recreate a mixed dish to lighten up that ham. You can even try using other types of grains or beans to change it up!
Lunar New Year Dumplings
This recipe for Lunar New Year Dumplings was delicious! We substituted for scallions and a lite sodium soy sauce. As for the wraps, these can buy premade wraps to save time opposed to making them from scratch.
Persian: Kuku Sabzi
This Baked Omelet from The Mediterranean Dish is a great flavor packed fresh dish. This makes a full cake pan. When we made leftovers, we roasted some garlic to make a paste and topped with roasted tomatoes as well for a new taste.