Link2Feed System Helps Us Better Serve Our Communities
UPDATE: This article was written prior to the COVID-19 pandemic. In response to the state of emergency, Gleaners continues to distribute food to our network of partner agencies and to people in need throughout southeast Michigan. Visit our emergency response page for a full update.
On Christmas Eve last year, Wanda Halton heard that her niece and her three children were evicted from their house because they were short on funds. The following day, as Wanda hosted a family holiday gathering, she welcomed her niece and kids for an extended stay. "That makes 10 people at my house," Wanda said. "A few of my kids had to come back home. They have nowhere else to go, and that's what family is for." Wanda was the first in line at St. Christine Food Pantry, a Gleaners' partner agency in Detroit, before doors opened on an early January afternoon. With more of her family in need, Wanda is returning to the pantry she visited as a young mother, nearly ten years ago. The pantry has evolved since then, and so has the reception process.
Wanda used her client service card to check in using Link2Feed, a new initiative made possible through a partnership between Gleaners and Forgotten Harvest. The initiative helps partner agencies more efficiently and effectively serve guests. During the visit, Wanda was greeted by Vickie Figueroa, a trained Link2Feed volunteer, who quickly checked her in and noted the changes to her household. "I have been part of 10-12 pantry distribution events so far," said Figueroa. "I volunteer because I am tech savvy. But I also like to get in front of the data and work directly with the guests. It humanizes the problem of food insecurity for me." As a previous TV20 Detroit employee, Figueroa said she understands that data and reporting can provide invaluable insights. "I see Link2Feed helping Gleaners better understand where people need the most help. My interest is in gentrified areas—areas where people are experiencing a high increase in cost of living."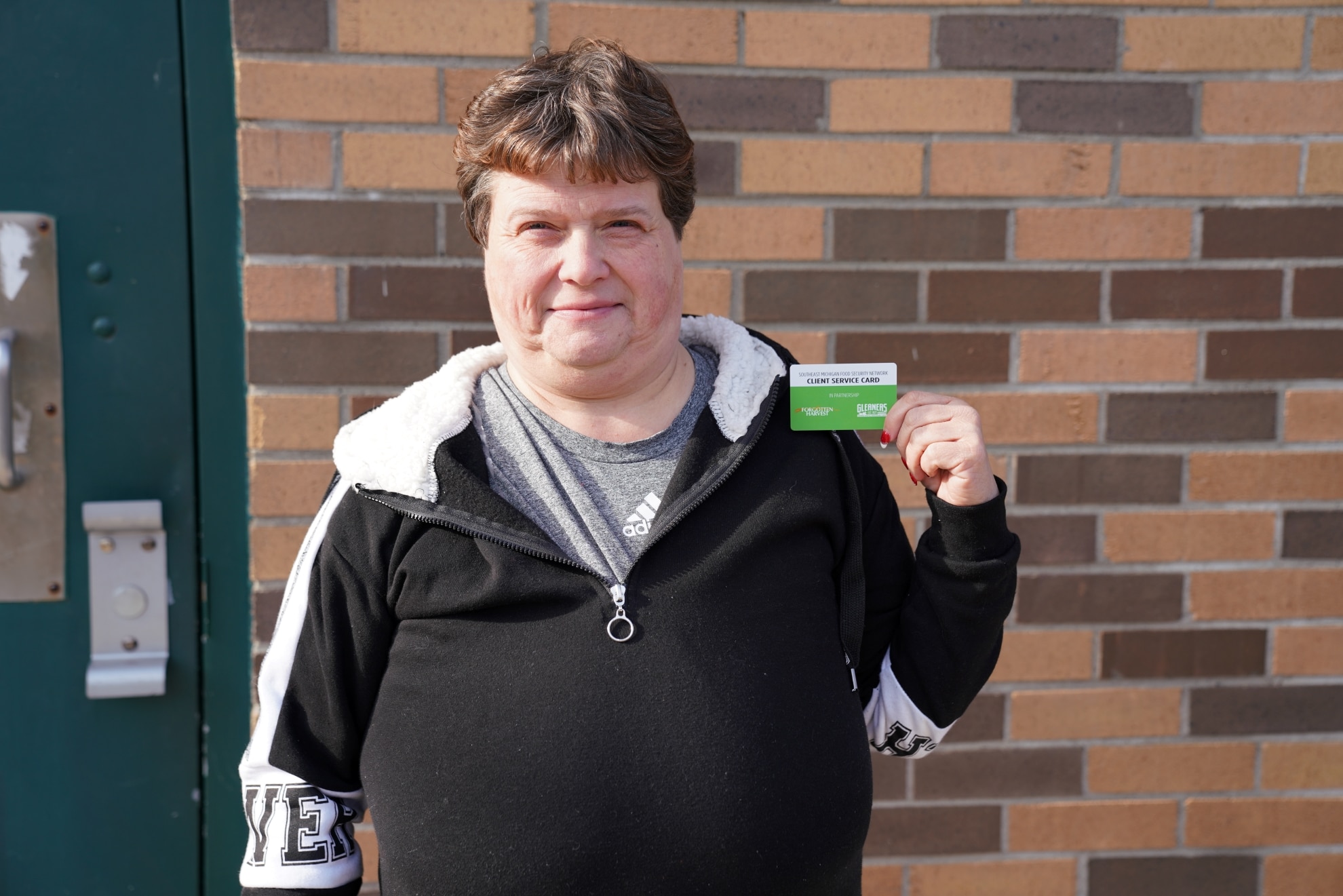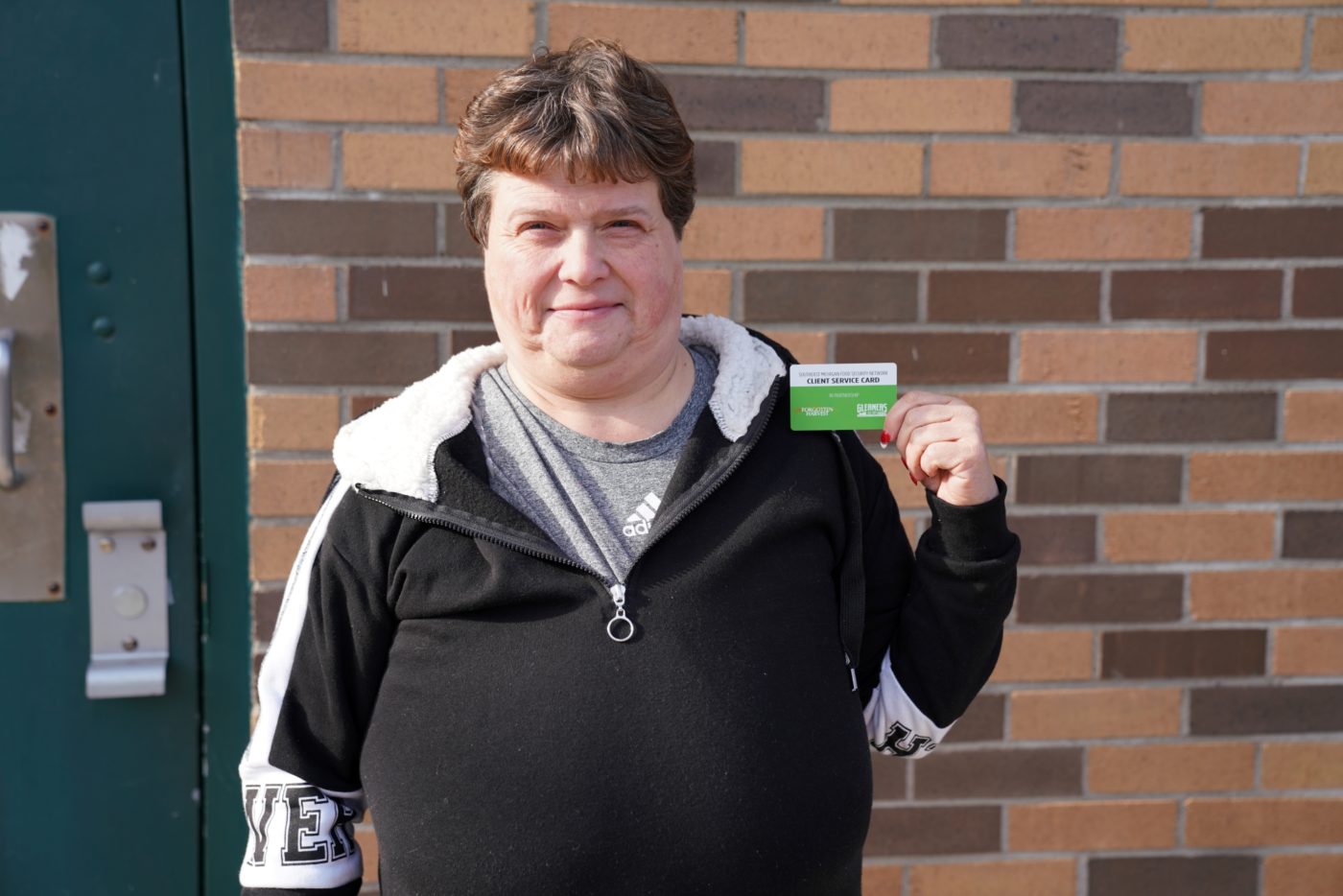 Link2Feed is cloud-based software made specifically for food banks and their partner agencies. In 2015, Gleaners and Forgotten Harvest embarked on a partnership to help food pantries throughout the region utilize this tool in order to provide the best service possible. "With Link2Feed, our partners gain a better understanding of their guests—from the types of food they need to be healthy to what language they speak at home," said Denise Leduc, Director of Community Engagement at Gleaners.
"Gleaners is dedicated to maintaining the privacy of individuals accessing the food security network. Link2Feed is focused on user confidentiality, and Information is reported only in the aggregate, never on an individual basis."
Today, more than 180 agencies in southeast Michigan are using Link2Feed, and five to ten new agencies are joining every month. Gleaners and Forgotten Harvest actively host training sessions, where agencies that are new to Link2Feed hear from their peers who are actively using the system.
How data helps us deliver more efficient and effective services to our community:
Oakland HOPE in Pontiac Offers Healthy Options: Through Link2Feed data, Oakland HOPE learned that 42 percent of households in their program identified hypertension as a dietary consideration. Gleaners helped provide nutrition education and fresh produce to promote healthy eating.
Twelfth Street Missionary Baptist Church in Detroit Focuses on Guest Experience: The Church's emergency food pantry serves an average of 300 guests every other Friday. The staff reports that Link2Feed client service cards dramatically reduce the time it takes to check in each guest and eliminates paperwork processing for volunteers. The online system means less wait time for guests and allows the staff and volunteers to focus on providing nutritious food to people in need.
Gibraltar Food Pantry in Gibraltar Creates Efficiencies: Gibraltar uses Link2Feed data to anticipate the needs of their guests and ensure nutritious emergency food is available each service day. Link2Feed reports show household sizes, ages,
and health considerations of their guests, allowing the pantry to provide the right food in the right quantities.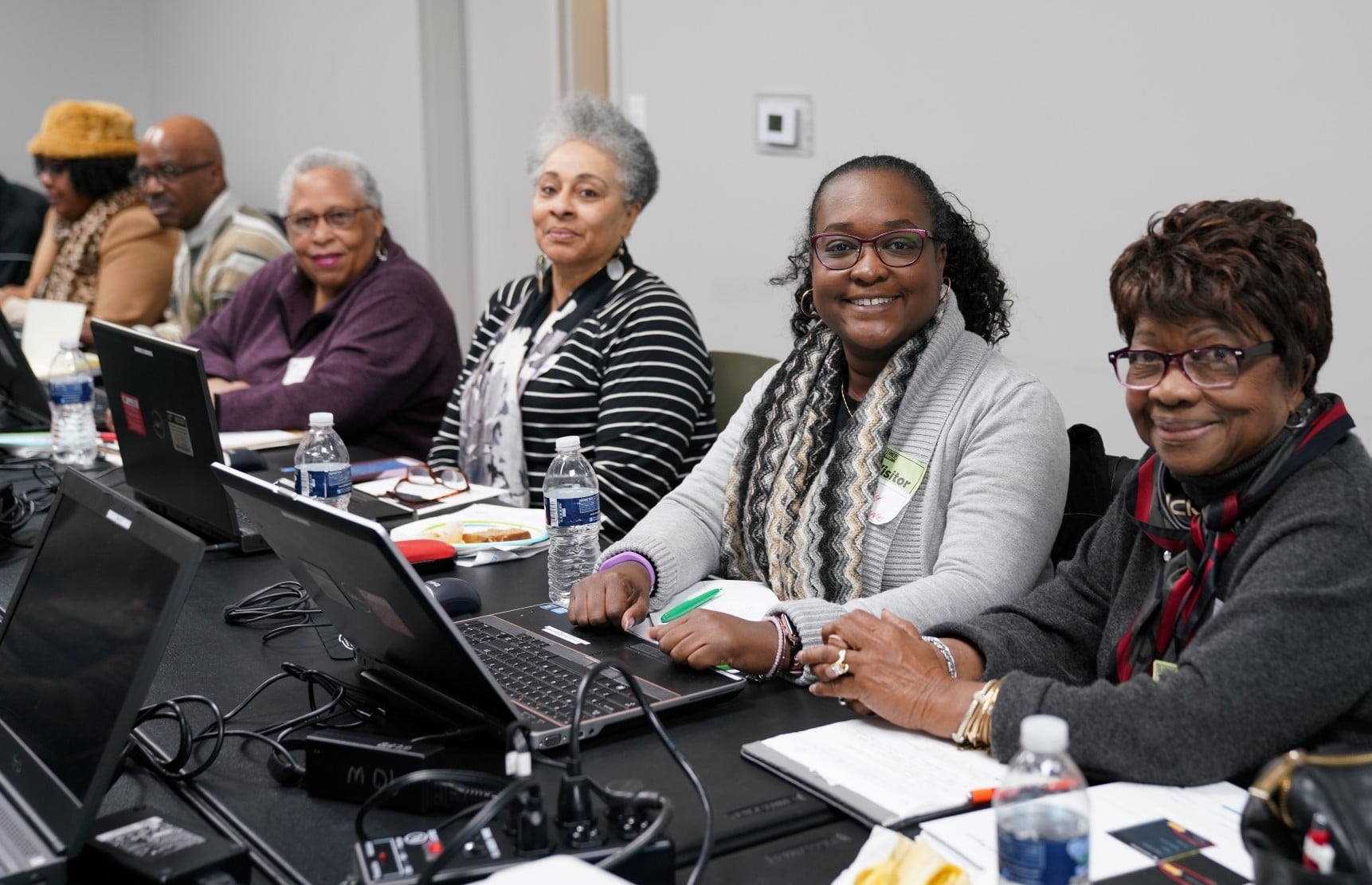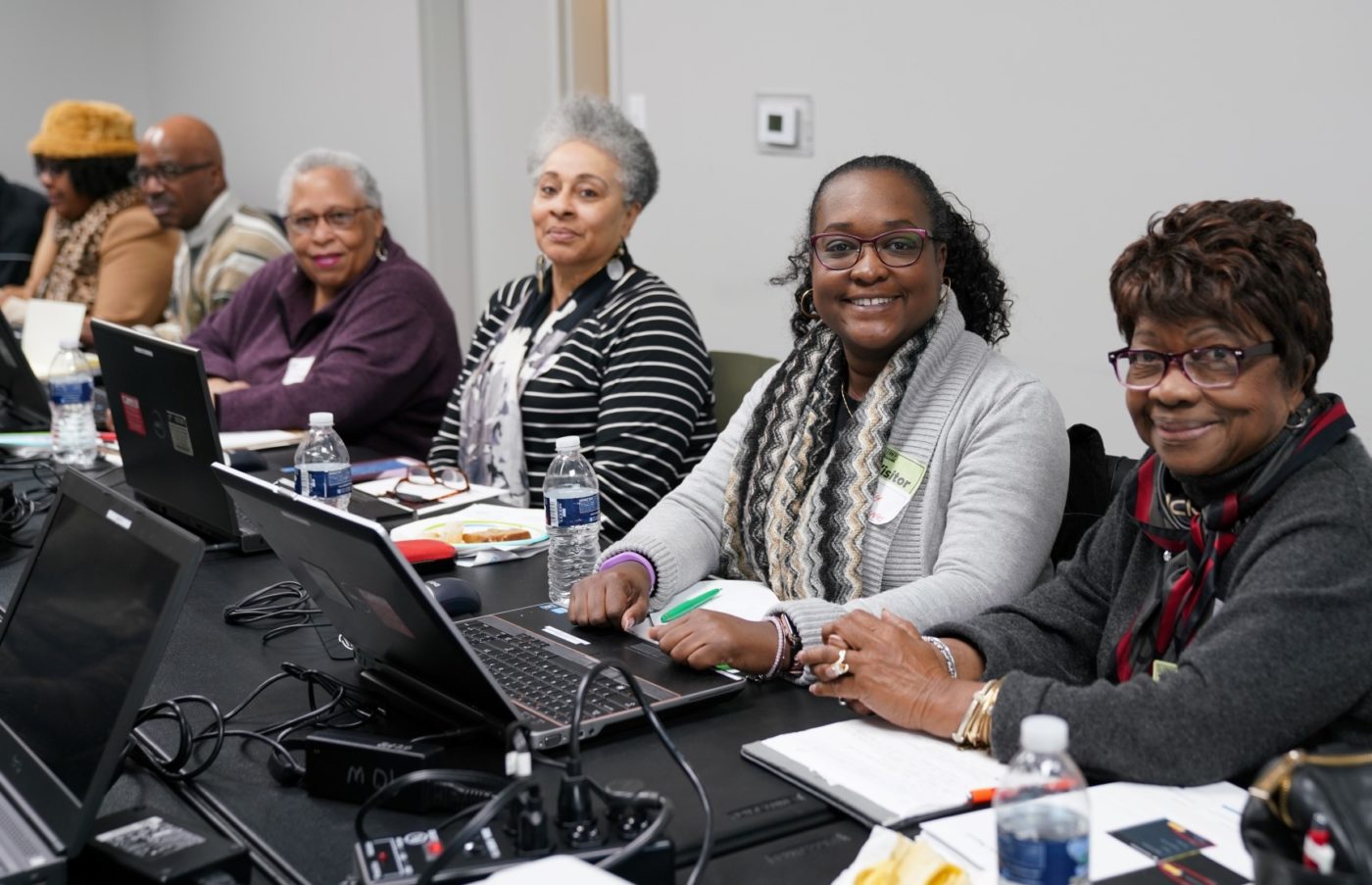 Looking at 12 months of data for the agencies enrolled, Gleaners can begin to gain insights about the 85,000 participating guests from 42,000 households. 27 percent of people served are children under 18 and 14 percent are seniors over age 65. Hypertension and diabetes were the top dietary considerations identified. While 26 percent of individuals served live alone, some household sizes ranged up to 14. Spanish and Arabic are the two most common languages spoken after English. Individuals visited a participating pantry an average of once every three months, and 39 percent of guests visited a pantry only one time in the past year.
The data also allows Gleaners to see how far people are traveling in order to access emergency food. In some cases, groups of people in need are traveling more than 30 miles. "With this new knowledge we can begin to uncover geographic areas and communities that are being underserved or need new types of services," said Leduc. "Link2Feed is helping us better understand hunger at every level."
Stay up-to-day on Link2Feed.
In 2020, Gleaners and Forgotten Harvest are focused on launching Link2Feed with more partner agencies in more geographic regions and we need your help! If you are looking for a hands-on opportunity to work with people we serve and enjoy learning new technology, sign up as a Link2Feed volunteer.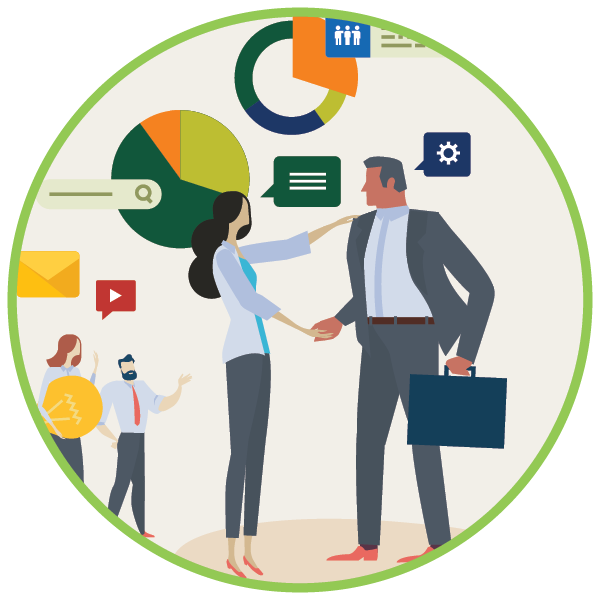 Foster Innovation
With our network of partner agencies utilizing the Link2Feed system, we can better understand the communities we serve and drive more efficient and effective programming.
Learn more about Gleaners' strategic priorities.