Written by Jaz Popa
During wintertime, it can be difficult to get fruits and veggies in your diet. A lot of our favorite produce is in season during the summer. That means during the winter, the fresh produce at the grocery store is going to be expensive and not as tasty. So, how are you supposed to enjoy any produce during Michigan's harsh winters? This is a question that many of us have. But, not to worry! Here are some tips on how you can enjoy produce during Michigan winters.
Fresh Produce
Although most produce is out of season during the winter in Michigan, you can purchase some fresh vegetables. Take a look at this chart:
The chart shows the seasonality of produce in Michigan throughout the year. Green indicates that the produce is fresh. This means the produce goes straight to the store after being harvested. Yellow indicates an extended season. This means that this produce was grown using a technique that makes it possible to grow food as it gets colder, such as in a hoop house. Produce marked as yellow means that it will be sold very shortly after it is harvested. Purple indicates produce that has been stored. The produce was harvested and then properly stored in a climate-controlled environment until it is ready to be sold. Gray indicates that the produce is not in season and is not grown in Michigan during that time. As you can see, the winter months do not have many green indicators, however there are quite a few veggies that are purple or yellow. When you are grocery shopping in the fresh produce section during the winter, reach for the items that are indicated as yellow and purple during the month you're shopping. This produce will mostly be root vegetables like potatoes and onions or leafy greens like kale.
---
Another option to eating fresh produce in the winter is to store it yourself. Many vegetables are storage crops that keep for long periods of time after they are harvested. That means you can purchase those foods right after they are harvested and still enjoy them in the winter, as long as you store them properly. Some popular storage crops include carrots, beets, parsnips, potatoes, turnips, leeks, garlic, onions, and winter squashes. These do not require preservation techniques to remain fresh, mainly just a cool, dark place to stay. Keep them somewhere in your home that is unheated or always stays cool, like the garage or a shed. Check out this link to learn more about how to specifically store each of these vegetables!
Now that you know which veggies to buy fresh in the winter, check out these recipes for some delicious ways to prepare them!
Northern Michigan Apple Salad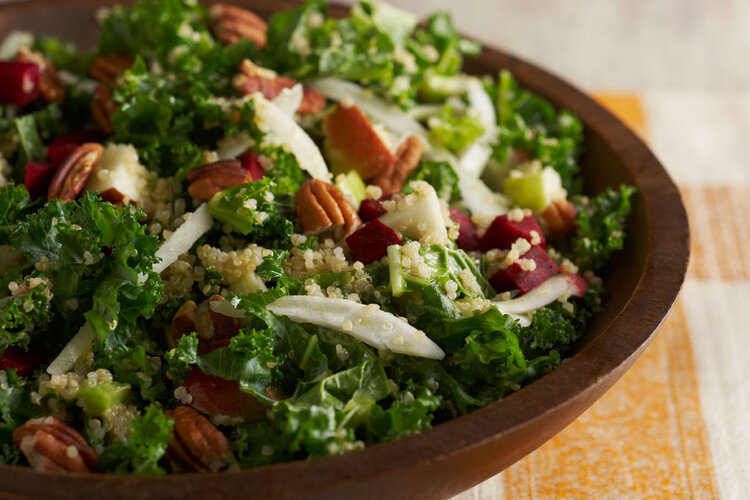 ---
One way you can also eat fresh produce in the winter is to shop at local markets that are still open during the winter months. Not only will you get delicious and fresh produce, but you will also be supporting your local farmers and economy. The Eastern Market in Detroit is open every Saturday from 6 a.m. – 4 p.m. year-round. They even offer veggie farm boxes for purchase in the winter! Find out everything you need to know about what the Eastern Market has to offer here!
You can also get fresh produce in the winter by growing it yourself indoors! As long as you have a good light source and consistent temperature of about 65-75 F, you can grow many things indoors such as peppers, carrots, salad greens, tomatoes, herbs, and even flowers! Herbs are low maintenance and tend to grow very well indoors, so if your new to indoor gardening, give those a try first. For anything you're interested in growing, set up a table or bench near a window, grab a pot, some potting soil, your seed of choice, and plant away! If you are finding that you don't get adequate sunlight during Michigan's dull winters, you can try a grow lamp. There are many options, all with pros and cons. Check out this site to learn all about different grow lamps and how to grow your own indoor garden.
Canned and Frozen Produce
Frozen and canned produce often times get a bad rep. However, they can be amazing alternatives to fresh produce when things are out of season. Frozen and canned produce are packed immediately after they're harvested at their peak ripeness. This means that they are packed with all of their delicious flavor and high levels of nutrients. All of that great nutrition is locked in when it's packaged at its peak, so frozen or canned have the same nutrition levels as fresh produce does and can even be more nutritious than fresh when that fresh produce is out of season. It can also be cheaper than buying fresh produce that is out of season. That's a win win! However, if you are buying canned/frozen goods, remember to look out for the sodium and sugar. Reach for the canned/frozen produce with no salt or sugar added. It will be the same price, taste just as good, and have fewer calories as well as lower sodium and sugar levels. If you do buy something that has added sodium or sugar, one thing you can do is give it a quick rinse. That will wash away a good amount of that added salt or sugar.
Always remember that you can freeze your own produce very easily as well! If you have some fruits or veggies that are about to go bad, freeze them! This can be any fresh produce such as onions, celery, carrots, peppers, kale, spinach, zucchini, bananas, berries, pineapples, avocados, and so much more! This is a great way to reduce waste in the summer when you have a lot of delicious, fresh produce. It will taste great in the winter when fresh produce is scarce and help stretch your food dollars! When it comes to freezing things yourself, make sure to chop the produce before you freeze it and freeze it in single portioned containers. This will make it very convenient and simple to throw into a meal. Check out this site for instructions on how to best freeze specific ingredients.
Something that often deters people about buying canned or frozen produce is the texture. Having these veggies as a plain side dish might not be your favorite way to eat them. However, if you are planning on eating them as a side, try roasting or sautéing them instead of steaming or boiling them. This will give them a nice crust and keep them from being mushy. One trick for masking the texture of canned/frozen produce is to combine it with something. Mixing them into things like rice, pasta, or eggs will help mask the texture. Another trick for making them taste a little better is to give them a bold flavor. Use a strong seasoning blend on them or to put them into sauces like a pasta sauce or a sweet and sour sauce. Here is a list of ideas you can try for cooking you frozen or canned goods so they taste their best!
In a soup or broth
In a stew
In a pasta sauce
In a smoothie
In a stir fry
In fried rice
In popsicles
In an omelet or egg scramble
In oats
Here are some awesome recipes to try using canned or frozen produce in: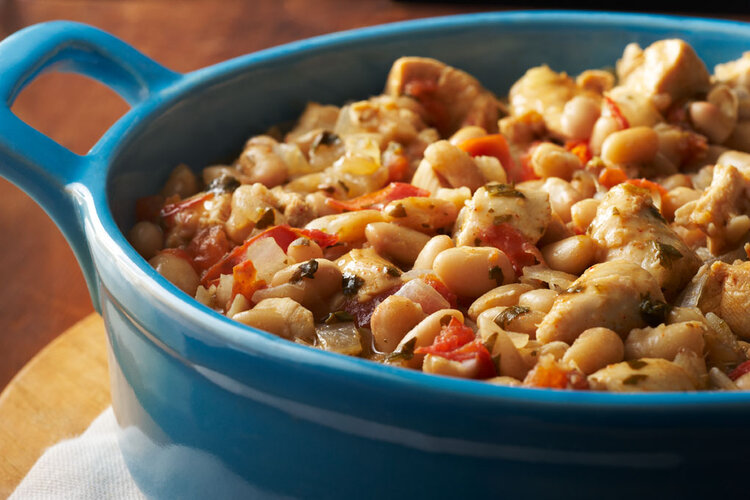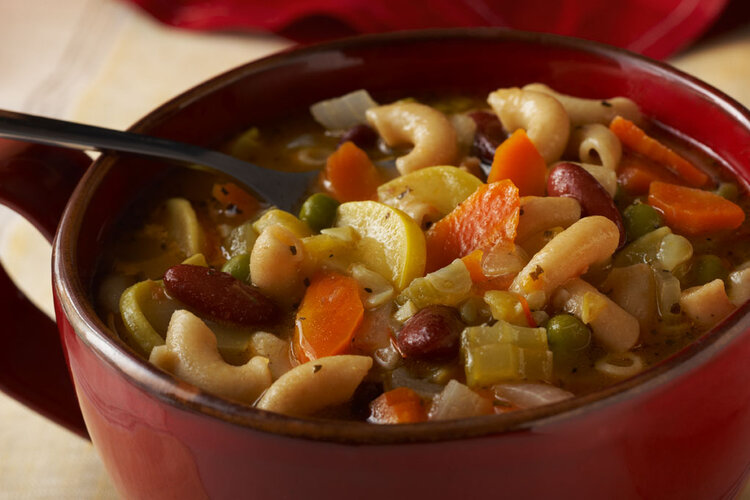 Frittata
---
Sources: