2023 Food Fight: Spring into Action!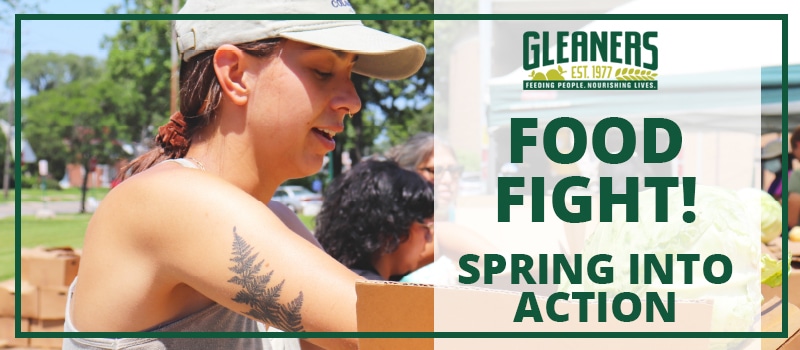 Gleaners Community Food Bank has become a lifeline for so many affected by the ongoing pandemic and historic inflation rates. We need your help! Especially now, after the rush of the holidays, food donations tend to slow down in the spring. This combined with the tough decision many are forced to make during these chilly months to heat or eat, makes this the perfect time to get involved. You can help make sure that families your community won't face this challenge by participating in our eighth annual Food Fight – Spring into Action.
Your team can join in on a friendly competition against other organizations to raise the most meals (including both food and monetary donations). Winners from each size category will take home an engraved trophy. Did we mention bragging rights?!
Every dollar donated as part of this campaign will be matched up to $100,000 by our generous sponsors, The Harold & Kay Matching Gift Fund.
Participation in this event will be both fun and rewarding, and Gleaners is here to help you make it easy! We will provide all the supplies you need to start your collection including boxes for non-perishable donations, canisters for monetary donations, a Virtual Food Drive for online donations, posters, eBlasts you can send out to employees, and help facilitating pick-up or delivery of your donations.
Have questions or want more info?
Contact: Katie Body
Email: kbody@gcfb.org
Phone: (313) 688-6100
Food Fight Resources:
2022 Participating Teams:
LandArc
Body Energy Fitness
Calvary Missionary Baptist Church
3D Advisors, Inc.
Wade Trim – Detroit
SEL Engineering Services, Inc.
Wade Trim – Taylor
Roush
Inspiration Clothing LLC
Yazaki North America, Inc.