Founders Detroit: Outer Limits Party 2019
September 28, 2019 @ 12:00 pm - September 29, 2019 @ 12:00 am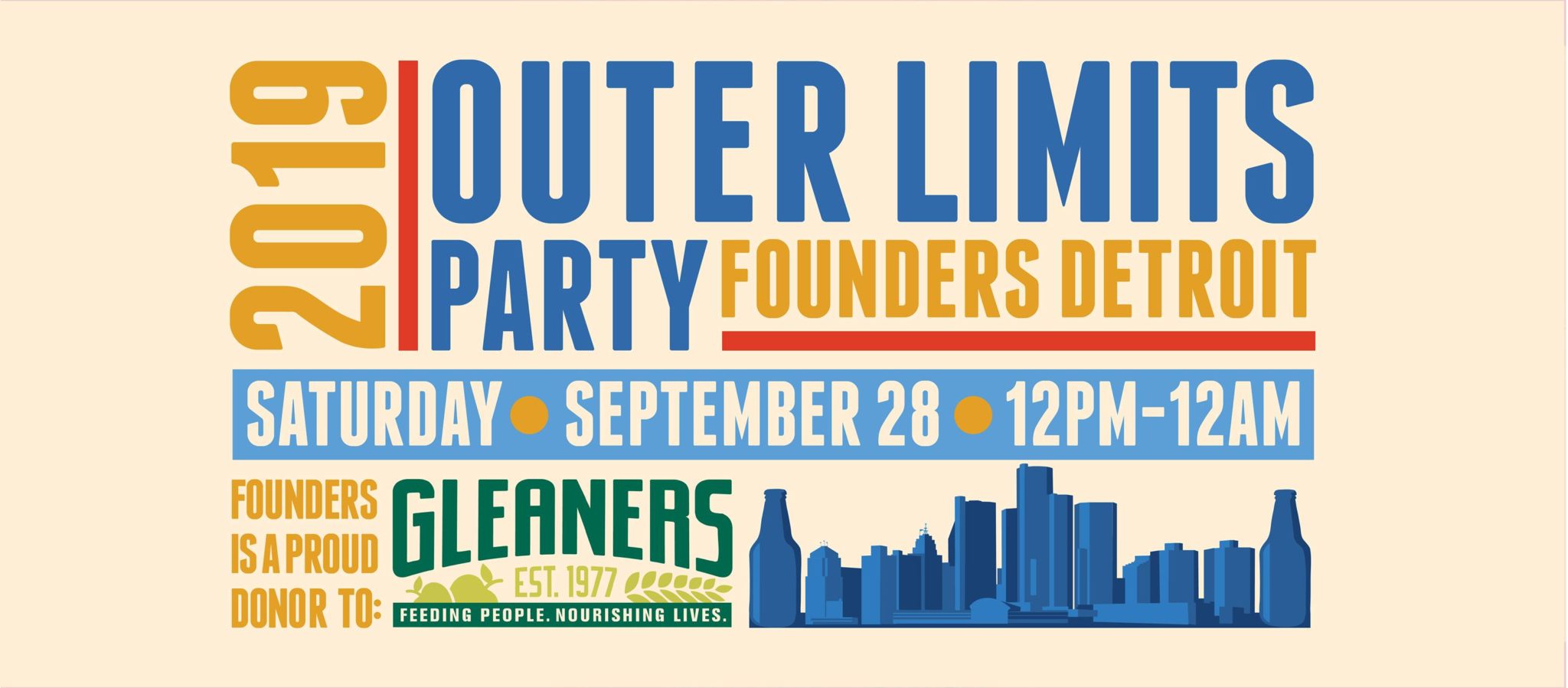 Join us Saturday, September 28th for our inaugural Founders Detroit: Outer Limits Party. In true Founders fashion, we are pushing the limit and taking the party outside with live music, special grill offerings (check back for details regarding the food), and of course, some of our favorite beers that we have been saving for just the right occasion.
The party kicks off in our parking lot at 12pm with music starting at 2pm, so be sure to bring your dancing shoes and prepare yourself for the major tap list we have curated for you.
This event isn't just about beer and music – we are excited to announce our official charity partner for the Outer Limits Party: Gleaners Community Food Bank, in support of September as Hunger Action Month. Because we support their mission to provide households with access to sufficient, nutritious food, and related resources to achieve a hunger-free community in southeast Michigan, our Big Pitcher program will be making a donation to Gleaners Community Food Bank.
If you would like to support Gleaners further, there are a few ways you can donate leading up to the event, as well as on-site:
·Donate to their virtual food drive during the month of September, or on-site at their activation here: http://bit.ly/2U5KvbA
·Add $1 to your tab in the taproom anytime during the month of September that will go directly to the Gleaners virtual food drive.
·Olympia Parking will be offering discounted parking at select nearby locations, and will donate $1 to Gleaners for every parking purchase made online via ParkWhiz for the event. Visit: http://bit.ly/2MArmgV and follow these instructions…
-Click the link above to purchase
-Discount coupon will be automatically applied during checkout
-$5 parking at select nearby locations
-Olympia Parking will donate $1 to Gleaners for every parking purchase made online for the event.
Lineup
Jessica Hernandez & The Deltas
One-of-a-kind soundclash of Goth pop, Latin rock, psychedelic surf, punk cabaret, dirty dancehall, and bold balladry, a voracious approach made uniquely their own through Jessica's astonishing vocal power and The Deltas' own boundless versatility.
Handgrenades
Handgrenades epitomize a never-ending and invigorating state of musical evolution. Not content to rest on their laurels or remain complacent in a sound that serves them well, the Detroit quartet constantly pushes their aesthetic. Credit this to three of the four members being songwriters, challenging one another in the creative process.
ERNO
Deeply rooted in the Detroit music scene, Erno embodies the varied styles of music the city is known to produce. His sets can be best described as disco and classic house having a love affair with techno, showcasing his love of over four decades of dance music.
Jyarsch
Funk. Whether it's hip-hop, house, soul, or R&B. Funk.
Featured Tap List
Mothership Series #9 – Oktoberfest
*Foundersbräu Helles
*Detroit Festbier
*Unfiltered Behavior
*Barrel-Aged White Stout
Barrel-Aged Imperial Stout
Panther Cub
Barrel-Aged MF Donkey Stout
MF Donkey Stout
Cerise
Green Zebra
CBS 17
CBS 18
KBS 18
KBS 19
Blushing Monk
*Detroit Taproom Exclusive Beer
…in addition to our standard Taproom offerings!
Tickets are $20 GA/$15 Mug Club and are on sale now. Each ticket includes entry and your first class 1 pint. 21+ only. This event is rain or shine. No re-entry.
About Gleaners Community Food Bank of Southeastern Michigan
Headquartered in Detroit, Gleaners operates five distribution centers in Wayne, Oakland, Macomb, Livingston and Monroe counties and provides food to 528 partner soup kitchens, food pantries, shelters and other agencies throughout southeastern Michigan. Named Feeding America's 2019 Food Bank of the Year, Gleaners was recognized for its leadership, strategic decision-making and collaborative partnerships, excelling in its innovative approach toward achieving food security for the region. In 2018, Gleaners distributed more than 43 million pounds of food to neighbors in need. On average, Gleaners distributes the equivalent of 96,348 meals each day and provides nourishing food to 430,000 people, including 171,000 children a year. Every dollar donated provides three meals, and 93 cents of every donated dollar goes to food and food programs. For more information, visit www.gcfb.org.