Sponsor an Event or Fundraising Campaign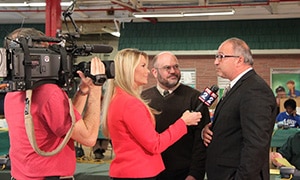 Gleaners has five major fundraising events and matching gift campaigns each year, attracting more than 3,000 donors/guests who want to support the mission.
If your workplace provides a match or event sponsorship/co-sponsorship for one of these efforts, you will receive mention in all media and press promotions, including Gleaners' website, publications, and social media. To learn more about match opportunities and sponsorships, contact Angela Halverson, Director of Donor Engagement, at 313-308-0601 or ahalverson@gcfb.org.
Support a School Food Mobile Pantry

Gleaners provides mobile pantries at more than 90 schools in our five-county service area. Each monthly event provides approximately 100 families access to 35 pounds of nutritious groceries, including fresh produce and dairy. A sponsorship of $13,500 helps Gleaners fund the annual cost of the participating school. To learn more, contact Cory Joyrich at 313-308-0616 or cjoyrich@gcfb.org.
Host a Food or Fund Drive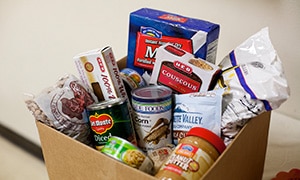 Host a food and/or fund drive at your place of business, school, church or other groups. Traditional food drives provide our partner agencies with a variety of needed food items which they can then distribute to their area residents in need. Check out how to set up a Virtual Food Drive by visiting: Food & Fund Drives webpage.