DETROIT – Gleaners Community Food Bank, based in Detroit and serving five counties in Southeast Michigan, has earned the The Innovation Center for U.S. Dairy's (Innovation Center) "Outstanding Community Impact" Award. The national acknowledgment program recognizes dairy farms, businesses and partnerships whose practices improve the well-being of people, animals and the planet.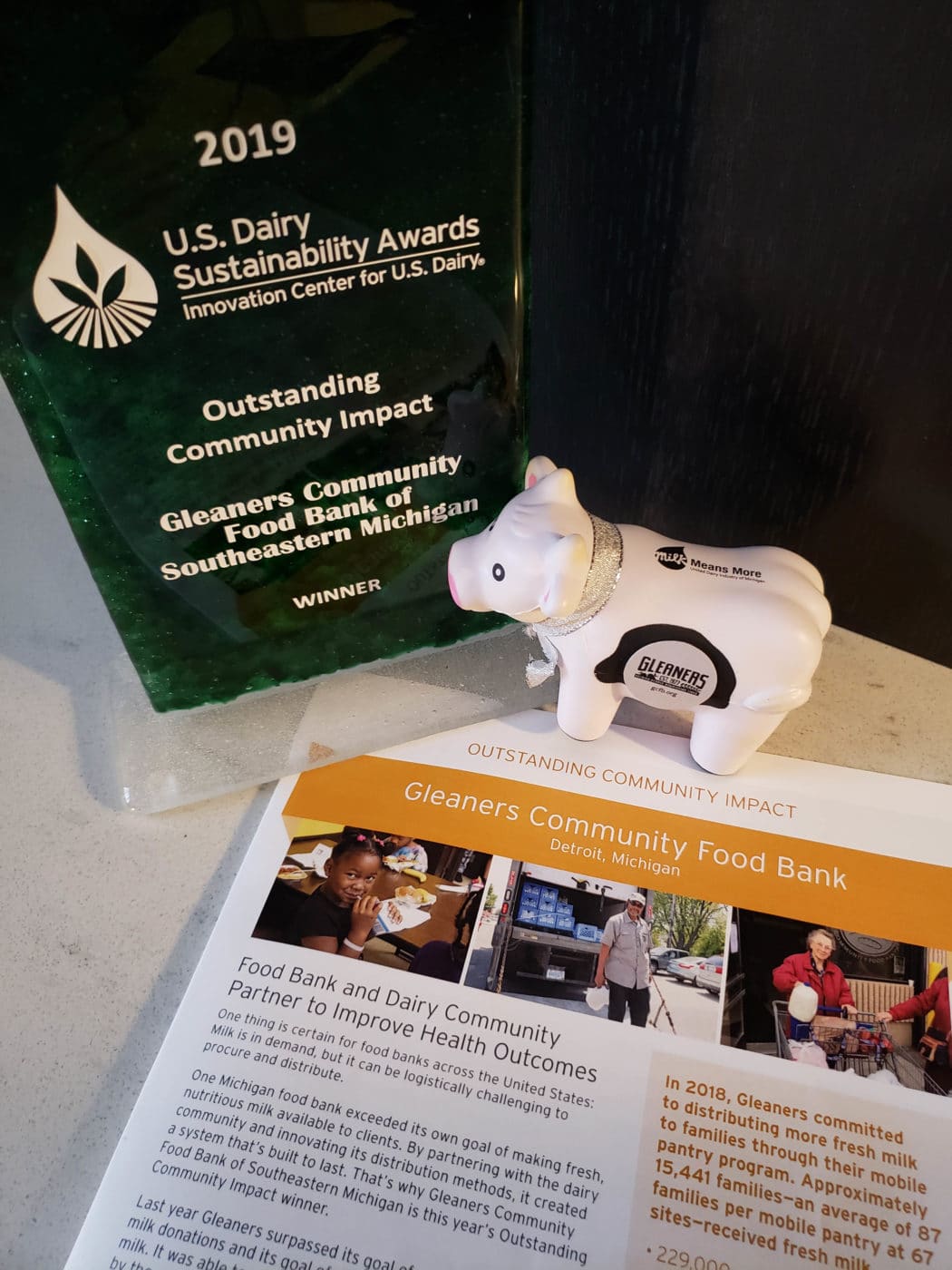 Gleaners was recognized for its ability to positively affect the lives of children and families with access to the nutrients in fresh milk. Overcoming challenges preventing the organization from widely distributing milk through its network as recently as 2013, Gleaners has sustainably provided 229,000 gallons of milk to those in need in 2018. Over the past five years, Gleaners has distributed more than 560,000 gallons of milk to the Metro Detroit community.

"Gleaners Community Food Bank is leading the charge to increase the availability of nutrient-rich dairy foods to those in need – an issue that is important to the dairy community and dairy farmers," said Barb O'Brien, president of the Innovation Center. "Through innovation and a deeply rooted passion to help others, Gleaners is providing hunger solutions to families who lack access to good nutrition. Gleaners' success lays a foundation that other organizations around the country can replicate so together we can help reduce food insecurity in our communities."
Through partnerships with the United Dairy Industry of Michigan and Michigan dairy farmers, Gleaners maximized donated funds and its purchasing power to secure milk at the lowest price, increasing the volume of milk available for delivery. Gleaners also streamlined operations to get refrigerated milk to families in need more quickly through its mobile food pantry program and dedicated delivery resources to overcome the logistical challenge of maintaining freshness.
"Milk is one of the most requested items at food pantries, but it is one of the least donated food items. Because milk can be expensive for families, many go without," said Julie Beamer, chief operating officer for Gleaners. "Gleaners leveraged the power of its relationships with United Dairy Industry of Michigan and Michigan's dairy farmers to help change that. Year over year for the past five years, we have increased our distribution of milk to families in need, and we have plans in place to build on that momentum."
About Gleaners Community Food Bank
Headquartered in Detroit, Gleaners operates five distribution centers in Wayne, Oakland, Macomb, Livingston and Monroe counties and provides food to 528 partner soup kitchens, food pantries, shelters and other agencies throughout southeastern Michigan. Named Feeding America's 2019 Food Bank of the Year, Gleaners distributed more than 43 million pounds of food to neighbors in need in 2018. On average, Gleaners distributes the equivalent of 96,348 meals each day and provides nourishing food to 430,000 people, including 171,000 children a year. Every dollar donated provides three meals, and 93 cents of every donated dollar goes to food and food programs. For more information, visit www.gcfb.org.
About Innovation Center for U.S. Dairy
Innovation Center for U.S. Dairy®is a forum that brings together the dairy community to address the changing needs and expectations of consumers through a framework of shared best practices and accountability. Initiated in 2008 by dairy farmers through the dairy checkoff, we collaborate on efforts that are important both to us and our valued customers – issues like animal care, food safety, nutrition and health, the environment and economics. The Innovation Center is committed to continuous improvement from farm to table, striving to ensure a socially responsible and economically viable dairy community.Visit USDairy.com for more information about the Innovation Center for U.S. Dairy.