From the grocery store to the gas pump, families across Southeast Michigan are continuing to feel the ongoing effects of inflation. With budgets already stretched thin, far too many are facing the toxic stress of worrying about how they will make ends meet. Some are even making difficult choices and trade-offs just to get by.
"I've been buying less protein, less meat, and less milk, and you've got to really stretch the bread because that really went up," said Sarah, a senior who has been coming to Gleaners Community Food Bank's community mobile food distributions for the past two months. "Sometimes I have to break my pills in half. And then there's gas; I don't drive anywhere I don't have to."
According to the Consumer Price Index (CPI), the cost of groceries, or food-at-home in Southeast Michigan has risen 14.3% since one year ago. For gasoline alone, prices have skyrocketed 42.2% over the past year.
To help stabilize households across Southeast Michigan, it is crucial to make food dollars go farther—and at Gleaners, purchasing power is a strength.
In addition to donated items, much of the food Gleaners obtains is purchased in bulk at a discounted rate from local farmers, corporations, and other community partners. Whereas a 15-ounce can of corn might cost $1.29 at the grocery store, Gleaners can purchase that same item for less than half the price. Similarly, a box of macaroni and cheese typically costs $1.00 at the grocery store, but Gleaners can buy it for 150% less. Gleaners also leverages purchasing power when it comes to fresh produce, milk, eggs, meat, and other nutritious foods.
This efficient and impactful food-gathering process is fueled by you, our community. Ninety-four cents of every dollar donated to Gleaners goes to food and food programs, allowing Gleaners to do what we do best: source, transport, deliver, and distribute nutritious food directly to our hungry neighbors together with our established partner network.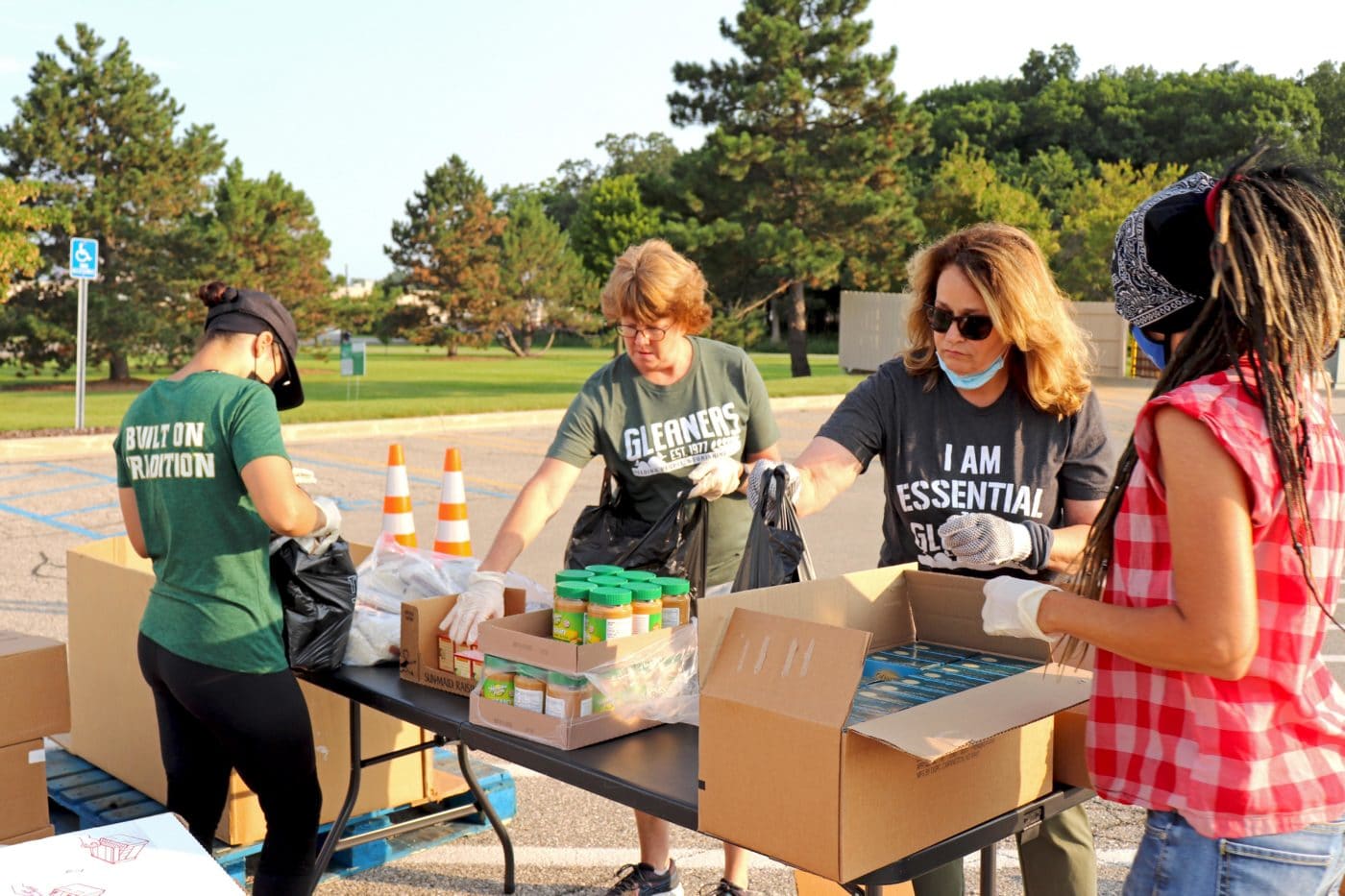 Double Your Donation to Gleaners Community Food Bank
Now through August 2022, every gift given to Gleaners will be matched by Citizens and other generous donors, as part of the Hunger Free Summer campaign. This match comes at a time when food prices are historically high, and families are potentially facing the removal of some summer safety nets.
Gleaners remains on the frontlines for hungry neighbors in Wayne, Oakland, Livingston, Macomb, and Monroe counties:
Mobile Food Distributions: Gleaners operates drive-up Community Mobiles five days a week for anyone who approaches us in need. Additionally, Gleaners works alongside key partners to provide mobile distributions for school families, seniors, and veterans.
Agency Network: Gleaners provides nutritious food to a 600-partner strong network of agencies, including schools, food pantries, soup kitchens, shelters, and more.
Summer Food for Kids: From June through August, Gleaners is operating the Summer Food Service Program (SFSP) at more than 50 stationary meal sites and 25 mobile sites to feed children 18 years or younger all summer long.
To donate to Gleaners, please visit www.hungerfreesummer.org, call 855-315-FOOD (3663) or mail a check payable to: Gleaners Community Food Bank (P.O. Box 44050, Detroit, MI 48244-0050). Please include Hunger Free Summer on memo line of check to ensure the matching contribution.
To get help from Gleaners, please visit www.pantrynet.org for a map of Gleaners' agency partners and schedule of upcoming community mobile food distributions. For immediate emergency food assistance, please call Michigan 2-1-1.