Gleaners Community Food Bank of Southeastern Michigan expresses gratitude and thanks to Eugene "Gene" Kleemann and his family for their generous donation of $54,000. The legacy gift was made in memory of Gene after his passing in December 2019. Gleaners was selected as one of more than 30 nonprofit organizations to receive gifts during a memorial banquet at the family-owned Flushing Valley Golf & Country Club on May 18, 2021.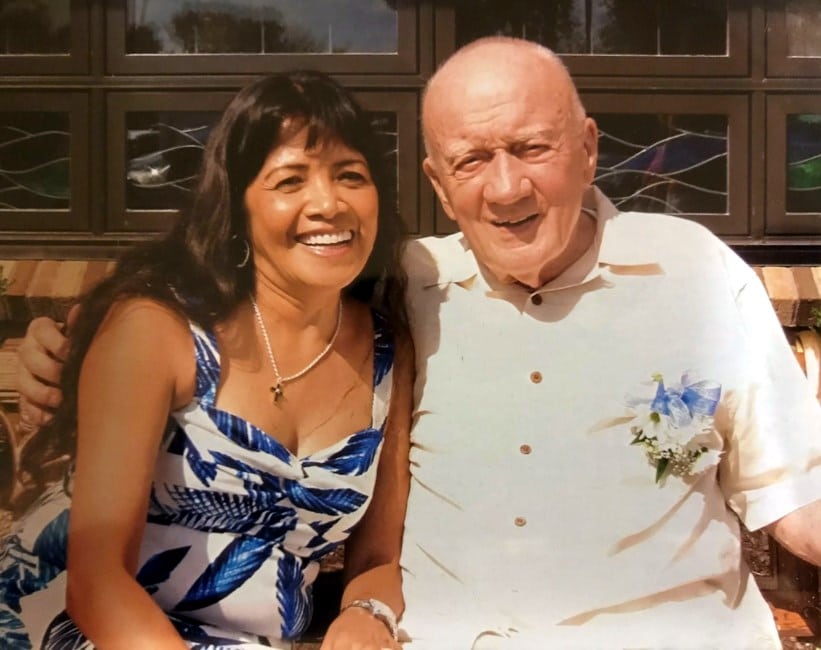 Gene is survived by his wife, Maria Kleemann, who fondly remembers Gene's "heart that keeps giving" and noted that he never wanted anything in return.
"The third year we were together, he asked for my help in giving away two million dollars to organizations. He put together a list of charities and I researched them. I explained to him who they are and what they do, and he approved it," Maria said. "I knew about Gleaners and chose them because I knew they could help a lot of people. It's a very worthwhile cause. It's about giving and helping people."
---
Throughout his 95 years of life, Gene was passionate about serving his community and helping anyone who was in need. After graduating from Cass Tech High School in Detroit in 1943, he proudly served in the U.S. Navy for five years over two stints. He was also an active member of his church, along with numerous organizations and social clubs.
When Gene retired from his 30-year engineering career at Chrysler, he spent much of his time volunteering at hospitals, senior centers, and shelters. Maria recalled one instance when Gene and his grandchildren worked together to prepare 120 dinners for the homeless. In addition to making sure people had enough to eat, Gene was passionate about creating better communities for children. He provided funds to revitalize parks, playgrounds, schools, and buildings in both his hometown of Jettenbach, Germany and locally in Mount Clemens, Michigan.
---
Maria described the many ways Gene practiced kindness and giving in their daily lives.
"He'd always tell me not to leave the house without twenty dollar bills in my wallet, because I might see someone who needs help," Maria said. "When I would go to the grocery store, he'd tell me to pay for the person behind me at least twice a month. He was always like that."
Generous donors like Gene and his family are instrumental in supporting Gleaners' mission to provide households with access to sufficient, nutritious food, and related resources. In addition to one-time and monthly donations, Planned Giving donations enable Gleaners to serve thousands of hungry neighbors in Southeast Michigan every year, including children, families, seniors, veterans, medical patients, and low-income individuals.
---
Making a legacy gift to Gleaners is easier than ever. Gleaners has an online resource that can help you find the giving option that works best for your goals. For more information, or to make a legacy gift, please visit plannedgiving.gcfb.org or contact Cecile Aitchison, Vice President, Development at caitchison@gcfb.org or 313-308-0358.