Written By: Jessica Kluz
Even with all the hardy winter vegetables and fruits – broccoli and cauliflower, brussels sprout, cabbage, citrus and pomegranate, potatoes, carrots, celery, onions – nothing quite compares to walking into a fresh farmers market with never ending tables of colorful fruits and summer vegetables. Which brings forth the question, how can we make the most of those long winter months, with seemingly "little" access to fresh fruits and veggies?
Spoiler alert! Those summer vegetables and fruits can be found all year long – specifically in more shelf stable options. Using frozen produce may be something that you already do; maybe it is something that you are uncomfortable with or have never tired. We are here to tell you that frozen produce can be an easy, convenient, and nutrient-dense option to still get all those vitamins and minerals in, even when the cold months do not seem to be of any assistance.
FREEZING YOUR OWN PRODUCE
In the summer and fall months, when fresh produce is at its peak, it is a great opportunity to buy in bulk and enjoy some now as well as later. Freezing your own produce is easy and well worth the stocked freezer!
Wash your fruits or veggies. Make sure they are completely dry to avoid freezing together.
Cut and prepare your produce. Trim off stems, peels, and skin however you prefer to eat them.
Consider separating into single-serving portions. This can make it easier when removing to eat, so that you only have to thaw or cook what you need rather than an entire bag.
Blanching! Most vegetables will need to be blanched before being frozen. This process includes adding your vegetables to boiling water for 1-2 minutes, and then removing them and placing in ice water to stop the cooking process. Remove and dry completely.
Freeze on a baking sheet to avoid clumping. Once frozen, transfer into storage containers or bags and return to freezer. This helps with the thawing process!
Do a little research! Some fruits and vegetables freeze better than others.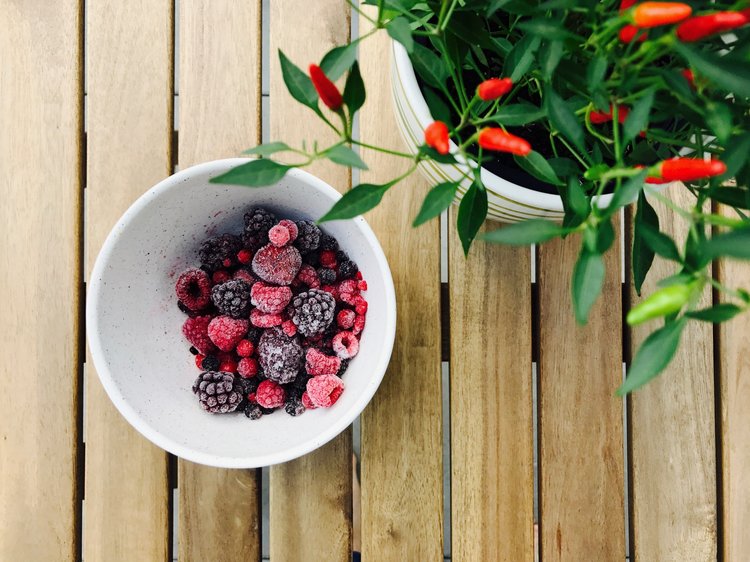 FRUITS AND VEGETABLES TO AVOID FREEZING
Due to added moisture and delicate texture, some fruits and vegetables do not freeze well.
Citrus fruits
Watermelon
Lettuce and leafy greens (aside from spinach)
HOW TO USE FROZEN PRODUCE
Smoothies or ice cream

Blend frozen fruit and veggies in a blender with low fat yogurt, milk of choice, or some juice.
Drink as a smoothie, or place in a container and return to the freezer to solidify as an ice cream to scoop later.

Baking

Add frozen fruit to muffin mix, pancake mix, or any baking recipe to get a pop of fruit flavor. No thawing needed!

Stir fry

Use frozen veggies such as peppers, onions, carrots, snap or snow peas, broccoli, or cauliflower to make a yummy stir fry
Adding them directly to a hot pan will start the thawing process, and the added moisture can be the base for your sauce

Casseroles

Adding frozen vegetables in casserole dishes is an easy way to get dinner on the table in a pinch
Mix frozen veggies with a whole grain, and some cheese and a sauce of choice and bake in the oven for a delicious hardy meal all in one pan

Snack Topper

Use frozen fruit to top yogurt, cereal, granola, or ice cream for some added sweetness and nutrients

Added frozen chopped veggies to staple meals

Add frozen peas or chopped bell peppers and onions to classic dishes like mac and cheese, omelets, or to ground beef or turkey for burgers
It is also a great way to incorporate veggies for picky eaters!
Sources
Freezer-Friendly Fruits & Veggies – Oh My Veggie