This article is part of State of Health, a series examining integrated care and its potential to improve Michiganders' health. It is made possible with funding from the Michigan Health Endowment Fund.

When Lauren Glass arrived at Alliance Obstetrics and Gynecology in East Lansing, she was offered something a little different from the traditional prenatal appointment. She participated in a centering pregnancy group, a new model that replaces traditional one-on-one prenatal appointments with longer group meetings.
Alliance has been offering centering pregnancy groups since November of 2017, and the model's more holistic approach has been revolutionizing prenatal care across Michigan. Meeting in groups of eight to 12, moms still get all the same care they would receive in their traditional visit with a doctor. But the new format affords them a longer time to discuss important subjects relating to their pregnancies and their babies' health.

A centering pregnancy group at Covenant Community Care.
Jodie Williamsen, a midwife at Alliance, says centering pregnancy groups empower moms to learn more about their pregnancies and engage in their own care.
"We encourage the women to do a lot for themselves, to take control of their own health," she says. "They take their own blood pressure readings, do their own urine testing, and track their information in their own chart. A doctor or midwife still does the uterine measuring and the ultrasound, but the women do a lot for themselves and they really like that."
Glass says she was a little apprehensive when she first heard about centering pregnancy, but the benefits rapidly became apparent.
"Sometimes you want to ask the midwife about something but you forget, and then another mom asks about it and you think, 'Oh, that's right! I was going to ask about that. I'm so glad someone remembered,'" she says. "Or another parent asks about something that didn't even occur to you. That's really helpful. You can learn a lot."
Unexpected benefits
Centering pregnancy groups offer moms a variety of unexpected benefits. Moms usually gather in a circle for a discussion facilitated by a nurse midwife or an OB/GYN, focusing on topics ranging from stress management and healthy eating to postpartum depression and breastfeeding. But they take away more than just the information gleaned from those conversations.
Equally critical are the relationships that develop, forming a vital support network among the moms. The moms in a group all start as strangers, but Williamsen says most of the women in the group are good friends by the time their babies are born.
"They usually end up creating their own private Facebook groups and talking amongst themselves online," she says. "They get together outside of group to hang out and give each other rides to the meetings."
One mom organized a walking group for the other moms in her group. Others plan get-togethers that evolve into play dates as their babies get older. Courtney Hilbert, the nurse midwife who runs centering pregnancy groups at Spectrum Health in Grand Rapids, says that for many moms-to-be, the opportunity to develop a secondary support network during pregnancy can make a huge difference during tough times.
"So many moms have told us that the group format helps them not feel isolated or alone during their pregnancies, and that they love the supportive environment," she says.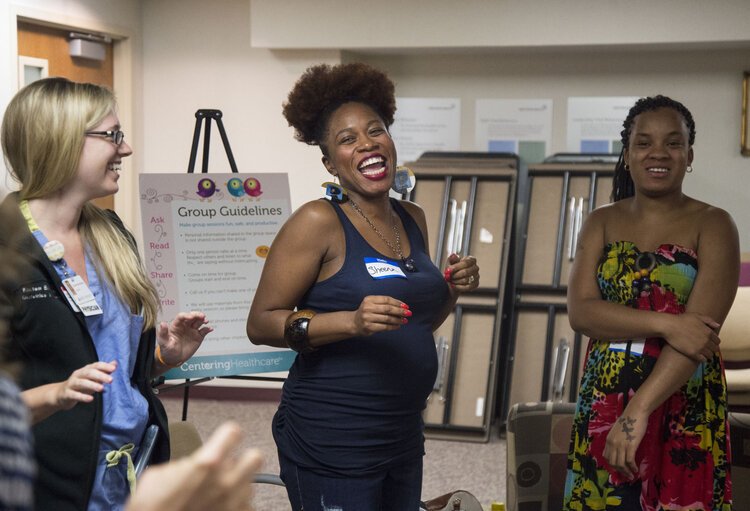 A centering pregnancy group at Spectrum Health.
Centering pregnancy groups can also provide a crucial forum to discuss complicated issues like postpartum depression. Rachel Lossing, the nurse clinic manager of the OB/GYN clinic at Covenant Community Care in Detroit, says some people "just aren't comfortable" with such topics in a one-on-one scenario, but "it's amazing what happens in these group settings."
"The stigma goes away, people open up, and suddenly we can be real about subjects that are very important but so often don't get discussed," she says.
Centering pregnancy groups can also have significant impacts on moms' and babies' health. A recent study conducted by the Yale School of Public Health showed that women who received group prenatal care were 33% less likely to give birth to preterm infants.
Those numbers hold up in Michigan. Hilbert notes that the preterm birth rate for moms in Spectrum's centering pregnancy program is 8.2%, compared to Kent County's rate of 9.9% and Michigan's overall rate of 10.2%. Women who attend more than 5 of the 10 sessions Spectrum offers have an even lower preterm birth rate – 7.7%.
Lossing notes that the March of Dimes recently found that Detroit had the highest preterm birth rate – 14.5% – of 100 major U.S. cities. But among Covenant's centering pregnancy patients, the preterm birth rate is only 7%.
"It's incredible, and it shows that the model is working," she says.
Expanding offerings
Centering pregnancy has become such a success that many providers are looking for ways to expand their offerings for parents. Covenant Community Care has been offering centering pregnancy services to pregnant women in the Detroit area for several years. However, in the fall of 2018 Gleaners Community Food Bank came on board, adding a new dimension to the program thanks to a grant from the Michigan Health Endowment Fund.
Inspired by feedback from a focus group comprised of Covenant's centering pregnancy patients, Gleaners now provides a box full of groceries for each mom at every centering pregnancy meeting at Covenant.

A Gleaners food distribution at Covenant Community Care's centering pregnancy group.
"We include protein, fresh produce, canned products, whole wheat goods, cereal, dairy products, and eggs, so that there's a wide variety of healthy foods," says Sarah Mills, director of wellness and nutrition education at Gleaners. "We've also started including nutritional information and recipes, so the moms have some inspiration for how to use the food we give them."
Lossing is thrilled about the Gleaners partnership.
"It's allowed us to meet another need for these moms in a way that we couldn't do before, and I'm proud to say that what we're doing here is really working," she says.
At the University of Michigan's Von Voigtlander Women's Hospital, expanding existing centering pregnancy programs means working to create more connections between birth workers and the university.
"We want to reach out to doulas, lactation consultants, and breastfeeding organizations, and even trauma-informed caregivers," says Melisa Scott, a certified nurse midwife at Von Voigtlander. "We want to invite them to join us and share information with the groups so we can offer enhanced prenatal care."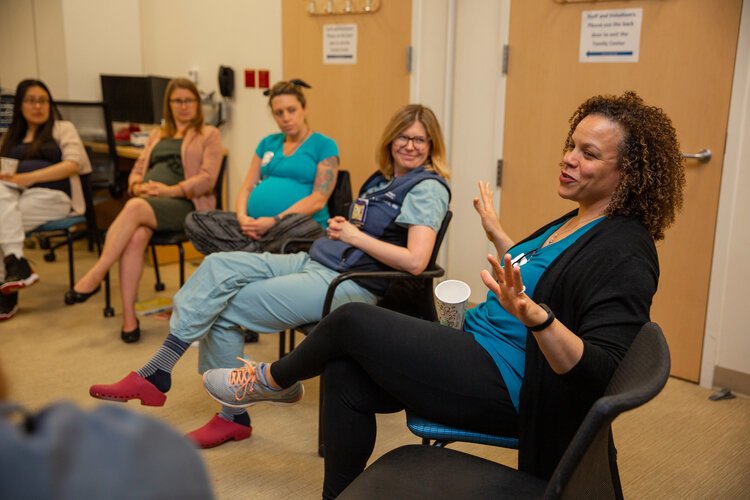 A centering pregnancy group at the University of Michigan.
For Covenant, the next step in centering pregnancy is creating "Centering Parenting" groups that moms can roll right into after they've given birth.
"We'll be using the same format as centering pregnancy, which was hugely successful for us, so we're very excited to see how this new application benefits our parents, their children, and the community as a whole," Lossing says. "There's so much potential here for building community and bettering life. It's going to be amazing."
Sarah Hillman is the news editor at Capital Gains and has been writing stories about issues that impact people's lives for years. She is also the writer and illustrator of a children's book about leadership qualities.
Covenant Community Care photos by Nick Hagen. Spectrum Health photo courtesy of Spectrum Health Beat. U-M photo courtesy of Bryan McCullough.