Delivering food safely and efficiently to those in need has always been a top priority at Gleaners. With the current realities of the COVID-19 pandemic, we have utilized the drive-up model of our School Food Mobiles at 66 new food distribution sites in our service area. In addition, our teams are working extended hours to pack thousands of emergency food boxes every week to serve walk-up guests at several of our new food distribution sites as well as our agency partners throughout southeast Michigan.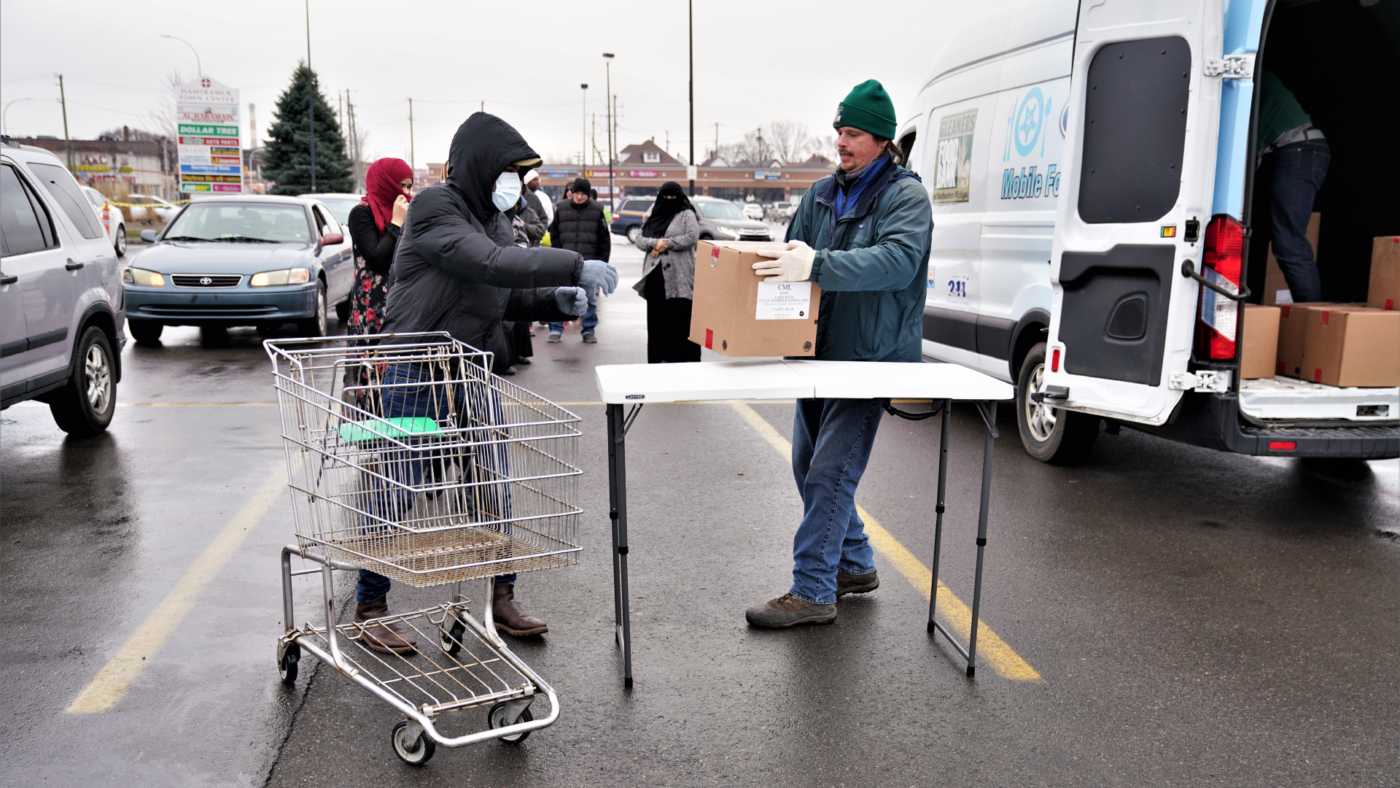 On the early afternoon of March 23, just as Michigan Governor Gretchen Whitmer issued a "Stay at Home, Stay Safe" executive order to begin at midnight, Gleaners staff directed a drive-up mobile food distribution with our partner Detroit Friendship House at the Hamtramck Harvest House. The site was in a commercial parking lot at the corner of Joseph Campau Avenue and Holbrook Avenue in Hamtramck, which was already a buzz with shoppers. Gleaners staff organized an island of emergency food, including fresh vegetables, lean proteins, and shelf-stable foods. A line of cars flanked each side, as staff placed groceries in the back seat and trunks of each car. Each family in need received enough food for two to four weeks, depending on the size.
Soon after the distribution started, another van from Gleaners pulled up and began to serve walk-up guests. Linea Watson stood patiently in line, six feet away from the other guests. "I have four kids at home right now, and I cannot keep enough food in the house," said Linea. Her husband was laid off from work two months ago, and her family of six now relies on her single income to pay the bills and purchase groceries. "I work the night shift at a food distributor for convenience stores. I will work as long as I am allowed. But with the crisis, I am not sure how long that will be, said Linea. "I am so grateful that distribution is here today. Getting this food right now is really going to help us in this terrible time."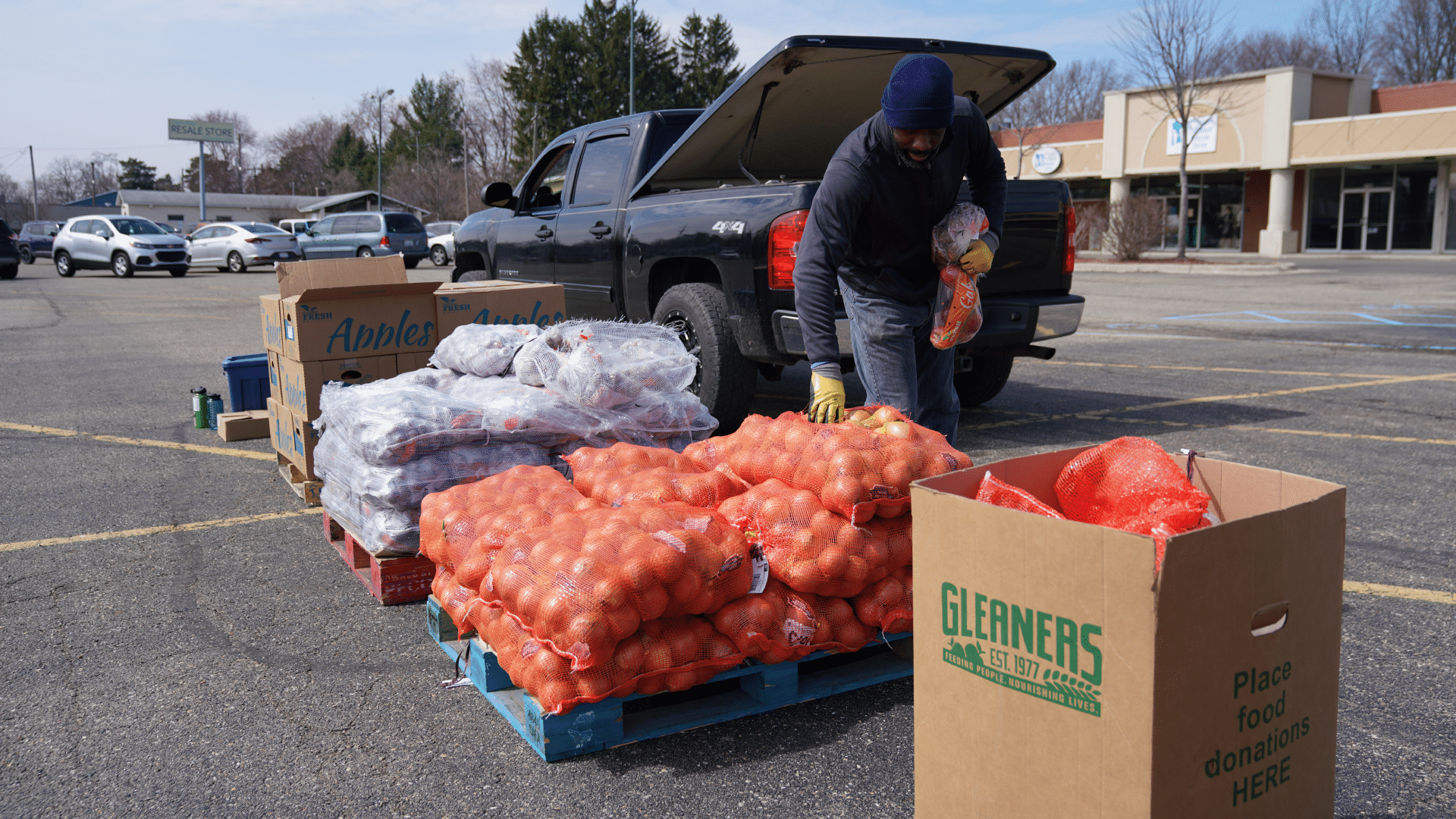 On the afternoon of March 27, the Gleaners team managed a food distribution in a parking lot outside of our partner Open Door Outreach Center in Waterford. Frank Howard pulled up in a large black pickup. "My wife and I both work in the food service industry and have lost our jobs in just a few days," said Frank. "We heard about this food distribution from a friend. I am really worried about the weeks ahead." Frank drove ten miles to visit the food distribution, hoping to get emergency food to feed his young child at home. He drove away with 30 pounds of emergency food, including fresh produce, frozen chicken cutlets, rice and canned goods.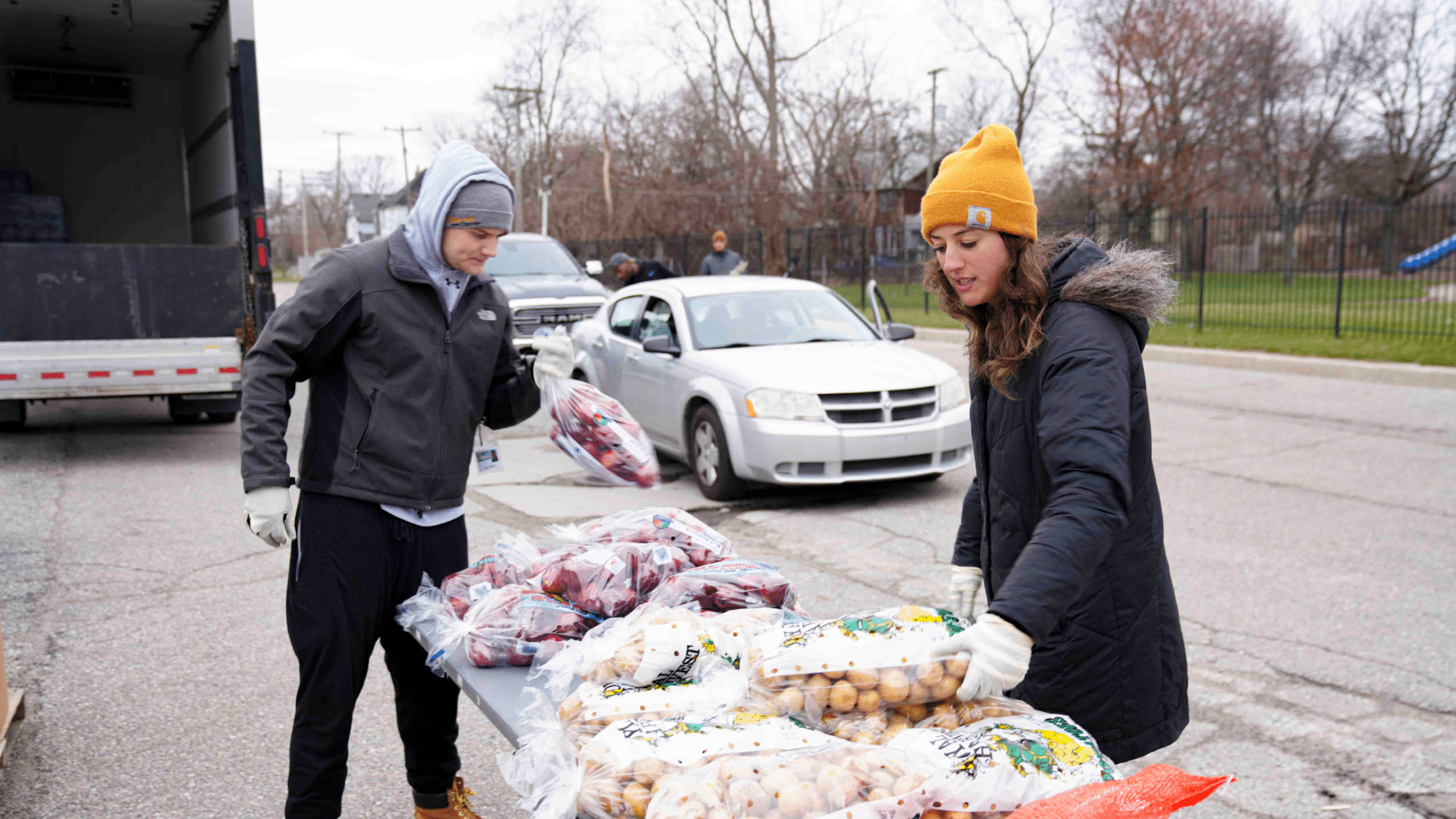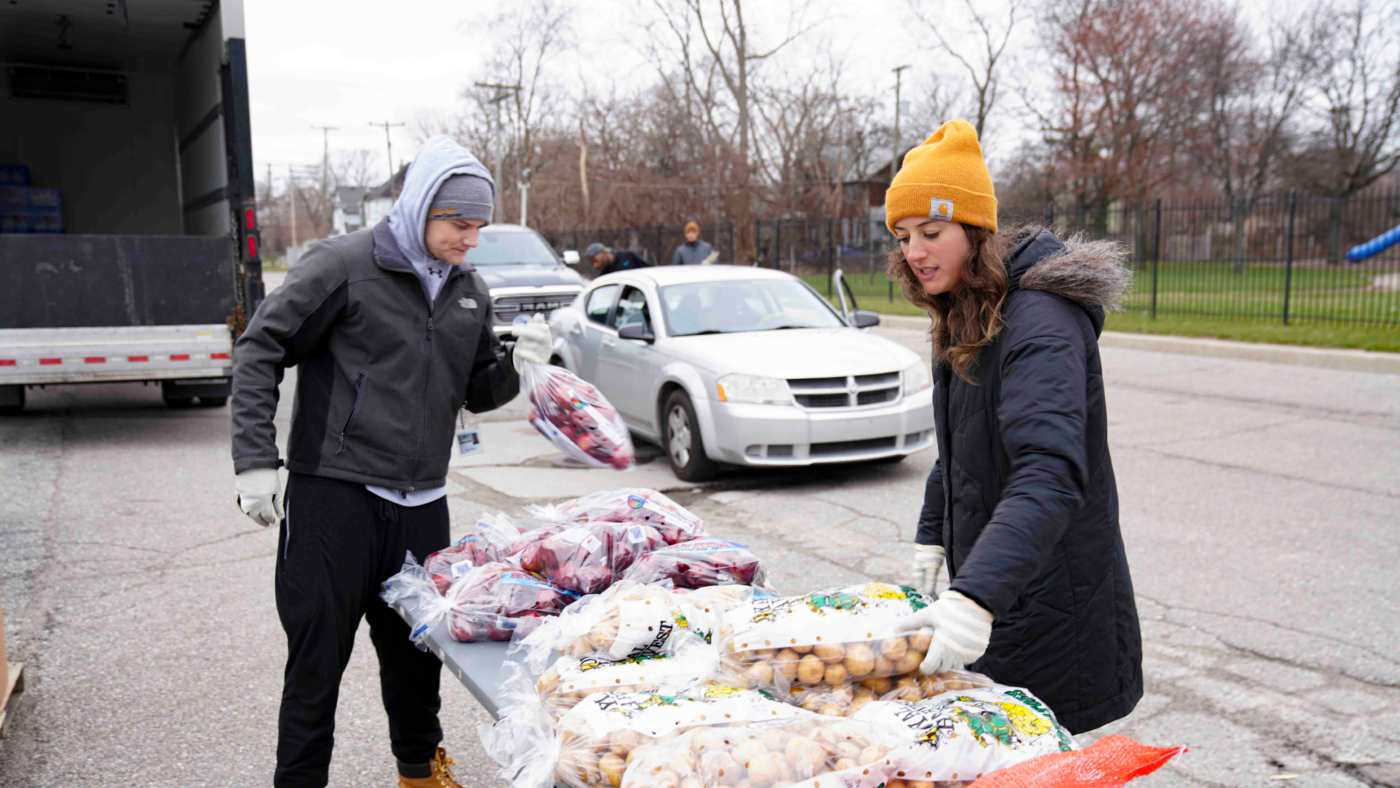 The City of Detroit partnered with Gleaners to host four drive-up food distributions. On March 30, Gleaners served a steady stream of cars outside the Butzel Family Recreation Center. Chelsea Owen-Watson visited the site with her grandmother and young child in the car. "I'm the youngest adult in our large extended family, so I am the one going out to see how we can get help," said Chelsea. "My mother and grandfather have underlying health conditions. If I can limit my exposure and get emergency food—that helps so much." After losing her job at a local university, Chelsea said she is helping care for her family as safely as she can. During the drive-up distribution, Chelsea was able to pick up food for her household, as well as her grandparents.
Gleaners is working around the clock to increase our drive-up mobile food distribution sites. Gleaners will also distribute boxes of emergency food to our partner agencies, including 500 food pantries, soup kitchens and shelters throughout southeast Michigan.
---
Need help? Call 2-1-1- to be connected to an emergency food assistance nearest you. Visit our food distribution page for more information about Gleaners' drive-up sites.
Want to help? Donate today and your gift will be matched, dollar for dollar.
To support these increased food distribution efforts, Gleaners needs your help. Thanks to PNC Bank and a group of generous donors, your gift today will go twice as far, helping us reach even more people in need during this urgent time.