Cooking Matters™ is a groundbreaking nutrition-education program that connects individuals and families with food by teaching them how to prepare healthy, delicious meals on a limited budget. Cooking Matters helps families maximize the benefits they receive through federal nutrition programs like SNAP (formerly food stamps) and WIC (Women, Infants, and Children). 
Professional chefs and nutritionists volunteer their time and expertise to lead interactive courses that show our participants how to learn to shop smarter, use nutrition information to make healthier choices, and cook delicious, affordable meals.  This knowledge can mean the difference between feeding families just for one night, and making sure they never again have to worry about when their next meal will come. Cooking Matters serves families with a variety of class types that are offered either in person or virtual. These classes can be hosted in English, Spanish, and Arabic.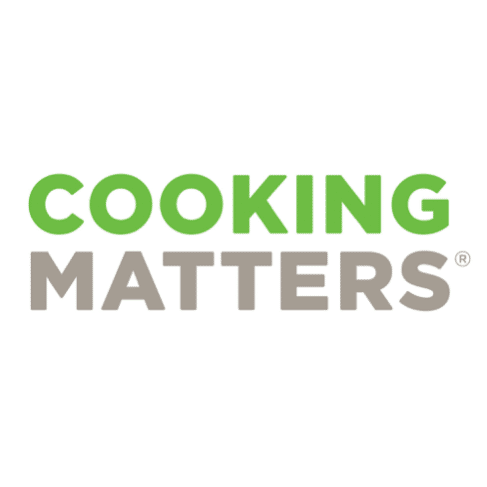 Cooking Matters Courses
We offer six-week Cooking Matters courses to adults, kids and families. Each course is team-taught by a volunteer chef and nutrition educator and covers meal preparation, grocery shopping, food budgeting and nutrition. Adult participants take home a bag of groceries at the end of each class. 
Cooking Matters One Time Events
Our one-time classes provide participants with education about how to prepare healthy meals on a limited budget. These topic-driven sessions are intended for parents, caregivers, and seniors to address specific needs that our communities face in their daily lives. 
Host a Class, Tour, or Workshop
Does your organization serve SNAP eligible individuals that would benefit from our program? Apply now to discover how to bring Cooking Matters programming to your community. 
Volunteer with Cooking Matters
Volunteers with culinary and nutrition expertise are needed to act as class instructors. We also look for volunteers to help us manage classes (no cooking skills needed, just a passion for people and healthy eating!). Volunteers must be at least 18+. 
Volunteers are required to attend a training and observe a current class session. Each volunteer commits to a one-time course or six-week series, using provided Cooking Matters curriculum. Classes are held mornings, afternoons, and evenings at the same time each week and are 1-2 hours per session. We schedule virtual and in-person classes off site at community locations in our five-county service area. 
The Cooking Matters Detroit website provides a program overview and information about curricula, volunteering opportunities, hosting a class, recipes, and more!
Click the link below for current career opportunities!