Written by Olivia Barrera
At Cooking Matters, we look at every recipe as a guide. Don't have one of the ingredients listed? No problem, use something else you have on hand. Allergic or just don't like one of the ingredients? That's okay, there is always a substitution that can be made to tailor a recipe to your liking!
Bringing that philosophy to the next level are the Cooking Matters Recipe Frameworks. Frameworks take the components of a recipe (ie; protein, sauce, etc), put them into the right proportions, and allow the reader to customize their cuisine.
These frameworks are created keeping in mind that half of our plates should be fruits and vegetables, and that half of all grains consumed should be whole grains. Whole grains are so beneficial because of their high fiber content. Read more about the importance of fiber at this past Cooking Matters blog post. See the MyPlate visual below:
Cooking Matters currently has Recipe Frameworks for Smoothies, Muffins, Casseroles, Pastas, Stir-Fries, and Soups. Today I am introducing three new Frameworks: Curries, Tacos, and Grain Bowls. See all formulas below. Categorized proportions are estimated to create 4 servings.
Curries
"Curry" is a generalized term for a spiced dish of stewed veggies and protein with a creamy sauce. Many are inspired by Indian, African, and Caribbean Cuisine. The gravies can be made on a stovetop with finely diced or mashed ingredients or in a blender to create a puree, then heated. Use about a 1:1 ratio of gravy to coconut milk or water for desired thickness. It is recommended to start your curry with aromatics like onions and ginger, then add spices and let them toast until fragrant. Add the vegetables next, then, once softened, your gravy components (already pureed if blending). If meat is used for the protein, add it last and if using beans, lentils, or chickpeas, add these with the vegetables. Let the curry come to a simmer and cook until the veggies and protein are cooked. Be mindful of the vegetables you're using. Those which are dense and longer-cooking go in earlier than delicate, high water content veg. Thai curries will commonly be more soup-like in consistency, use 2-4 tablespoons of curry paste and 4 cups of water/ broth and coconut milk. Tofu only needs to be warmed through so it can be added towards the end (unless you like it pan-fried or baked first). Serve your finished curry with rice, noodles, or bread.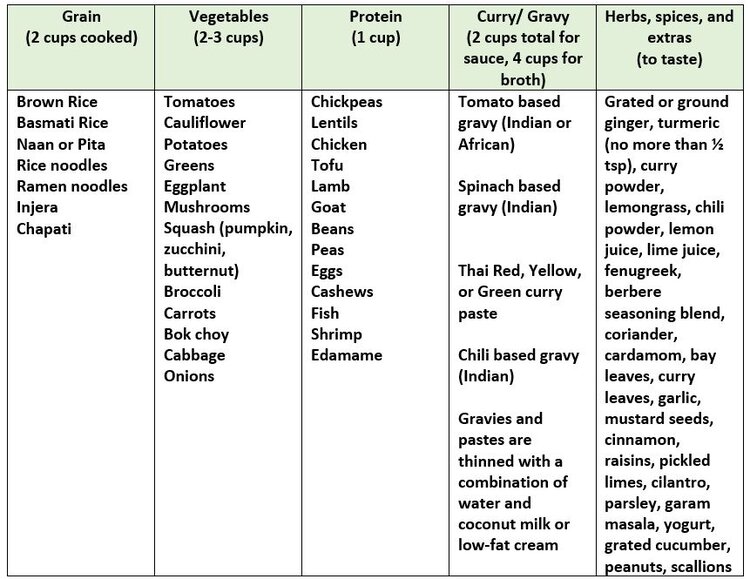 Tacos (or Burritos or Burrito Bowls)
A taco or burrito can be made with pretty much any ingredients so get creative and make some magic! If you don't have tortillas, feel free to make a burrito bowl with all the traditional burrito toppings but put it over rice instead of wrapped. Be sure to add extra veggies if that's the case! This is one dish that can be made for breakfast, lunch, and dinner. It's recommended to do at least half beans if you choose an animal protein for added fiber and vitamins. Use your typical taco filling proportions but then add some more veggies!
Grain Bowls
Grain Bowls, also known as Nourish Bowls, are a delicious way to use up veggies and greens in the fridge! These tend to be Mediterranean and Middle Eastern inspired, but any spice blend is delicious. Try roasted or raw veggies, you won't be disappointed. I always use a generous amount of sauce on top and massage any hardy greens with a little olive oil.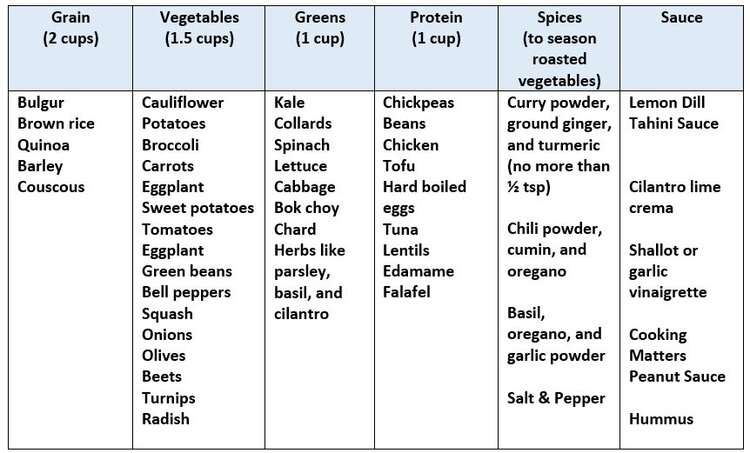 Cooking Matters' Classic Recipe Frameworks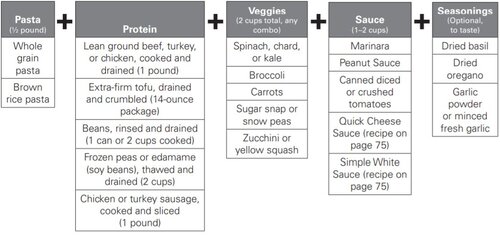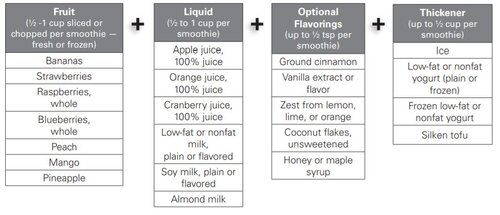 Muffins
So the next time you're looking for inspiration take a look in your fridge, freezer, or pantry and see if you can put together something delicious using a Cooking Matters Recipe Framework!