Written by: Chelsea Hansen
Adding more herbs and spices to your meal is an excellent way to enhance the flavor of your food allowing you to cut back on salt and sugar. In my opinion nothing beats fresh herbs, however the price tag at the grocery store will often deter me. That's when I discovered that growing herbs at home was an easy and affordable way to get all the benefits and flavors without the price tag. Living in Southeast Michigan I started by doing some research on what types of herbs do best in my climate.

According to B'Onko Sadler at MSU extension "Generally, herbs can be grown in sunny, well-drained areas in the garden. Wet or heavy soil is not suitable. These areas need to receive eight or more hours of full sunlight a day. Some herbs may grow in partially shaded areas but will not have the flavor of full-sun locations. Avoid windswept areas."
Herbs can be planted in garden beds, containers or pots. If you are low on space a few small potted herb plants can still be achievable as long as you have a sunny place to put them. Bonus with potted herbs is they can be brought indoors and placed on a sunny window sill when the weather turns colder. If you don't have anywhere to put them inside you can start harvesting your plants as the days cool off and dry or freeze them for use throughout the winter.
In my research I also learned that certain herb plants are perennial which means they will grow back the following spring time. The plant that keeps on giving. Below is a list of the types of herbs and their different flavors courtesy of Gretchen Stelter at MSU extension:
Perennial herbs that can be grown in Michigan:
⬝ Bergamot – The "Earl Grey" tea flavor; used in dry tea mixes
⬝ Lemon balm – dried lemony leaves used in teas, self-seeds prolifically
⬝ Chamomile – sweet apple-scented leaves; usually grown as an annual
⬝ Sweet woodruff – sweet clover scent; used to flavor drinks
⬝ Chives – Mild onion taste; use uncooked
⬝ Garlic chives – mild garlic flavor; use uncooked
⬝ French tarragon* – peppery scent and anise-like flavor
⬝ Garlic – plant in the fall for next year's crop; may be strongly flavored and small
⬝ Lavender – 'Hidcote' and 'Munsted' relatively hardy; prune in spring
⬝ Oregano* – bold, spaghetti sauce or pizza sauce flavor
⬝ Peppermint – leaves and oil extracts used; may be invasive
⬝ Sage – use fresh and dried leaves; green sage may be hardier than variegated or flavored varieties
⬝ Spearmint – leaves and oil used as flavoring; rampant, aggressive spreader
⬝ Sweet cicely – sweet, licorice flavored seeds; leaves and roots
⬝ Thyme – mild lemon-clove flavor
⬝ Winter savory – leaves have a peppery, spicy flavor
*Two are classified as biennial herbs which will live for two years. The first year, they produce some leaves and the next year, they grow to maturity.
Annual herbs that can be grown under Michigan conditions:
● Anise – licorice like flavor
● Basil – warm, somewhat spicy flavor; used in many pesto recipes
● Chervil – parsley/anise flavor
● Cilantro – leaves give a fresh, clean taste to dishes
● Coriander – seeds have a mild, lemony taste
● Dill – fine, fern-like leaves used fresh or dry, flavor of dill pickles
● Fennel – mild licorice flavor; seeds, leaves, stems and bulb edible
● Marjoram – mild, oregano-like flavor
● Rosemary – very bold flavor; for best results, use fresh leaves in foods
● Summer savory – minty thyme flavor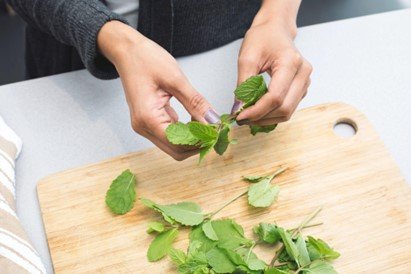 Now that you've got the growing part down, let's get cooking. Herbs can be used in pestos, sauces, marinades, soups, salads and everything in between. Their little leaves can pack a lot of flavor along with added nutrients. Here are a few commonly grown herbs and examples of recipes you can use them in:
Mint Recipes:
Dairy-free broccoli and mint pesto
Dill Recipes:
Cilantro Recipes:
Oregano recipes:
One pot lemon oregano chicken and rice
Parsley recipes:
Lavender recipes:
Basil:
References: