"We know there are people out there who should not be going to the store—the sick, the elderly, the disabled. And that means they might not make it to our food distributions or visit food pantries," said Rachelle Bonelli, Vice President of Programs at Gleaners. "We are doing everything we can and helping partners who know where these populations are and how best to reach these people."

The first of Gleaners' five strategic priorities is meeting people where they are. During COVID-19, this commitment takes on an even greater role. To ensure healthy well-balanced food makes it to everyone in need—especially the most vulnerable—Gleaners has deepened partnerships and develop new relationships. Emergency boxes filled with well-balanced shelf-stable foods are being delivered to more than 120 partners, including healthcare providers, community organizations, senior centers, veteran service providers and many others.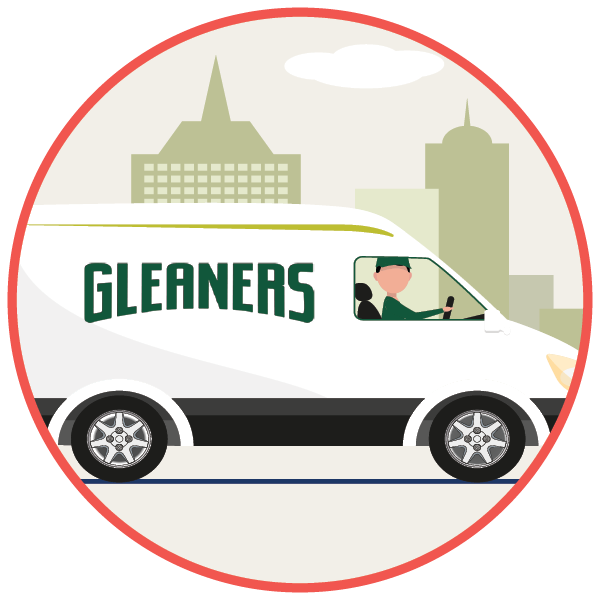 Healthcare Patients
Gleaners' ongoing partnership with Community Health and Social Services (CHASS) Center continues to provide nutritious food to hundreds of patients during this urgent time. CHASS is committed to the overall well-being of the community, by providing comprehensive, accessible and affordable quality primary health care and support services to all residents with special emphasis on the underserved African American and Latino population.
"When Gleaners called to partner—our offices were so excited," said Melissa Garcia, Clinic Manager at CHASS. "The staff has always discussed creating a temporary food pantry for our patients. This opportunity has allowed that to become realized."
The emergency food boxes are reaching patients that face many obstacles to accessing food, including transportation and lack of funds. "One patient was in tears. He did not get paid until the end of the month and was not receiving food stamps," said Garcia. "He lived right down the street and we were able to provide him with the food he needed to get through the urgent time."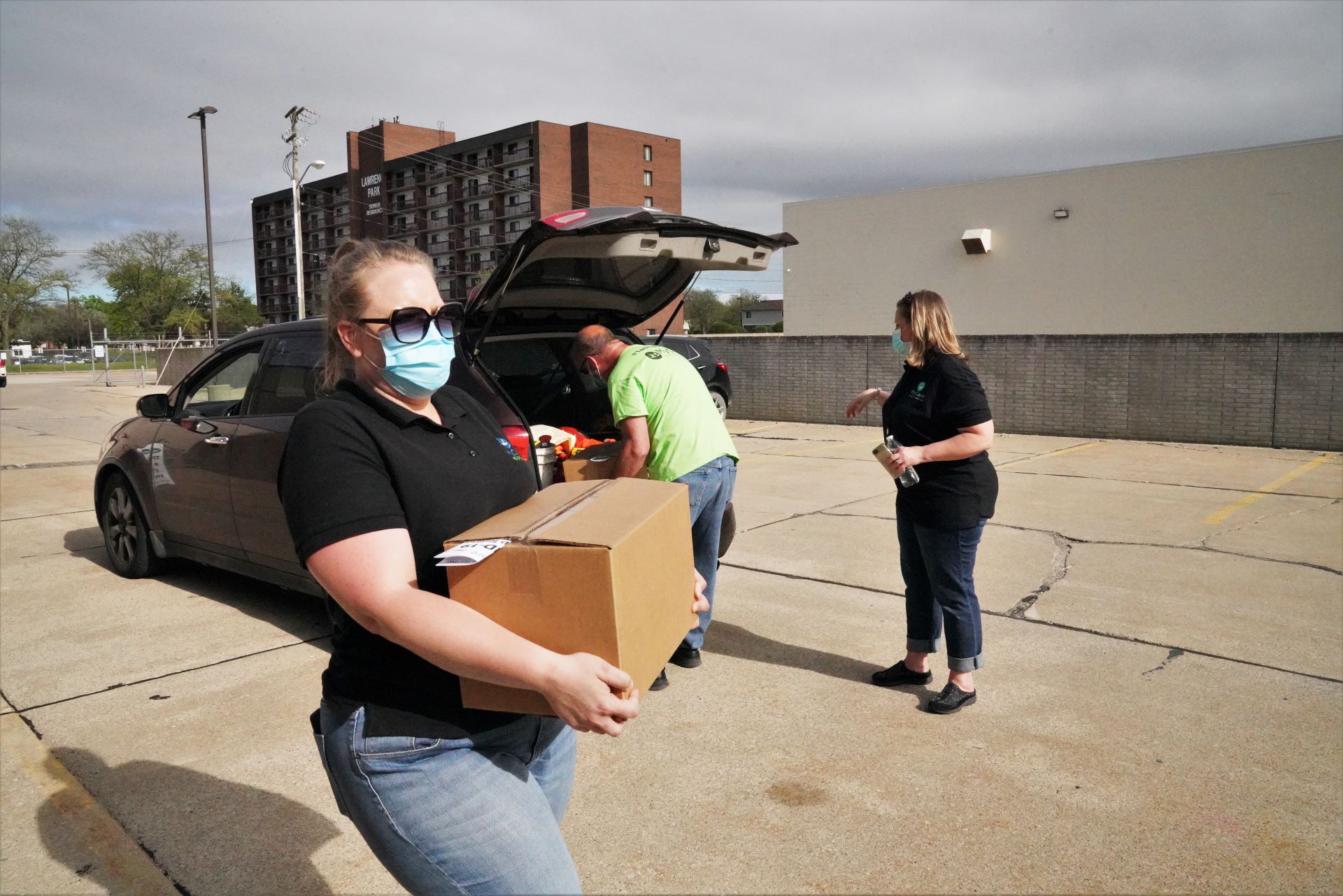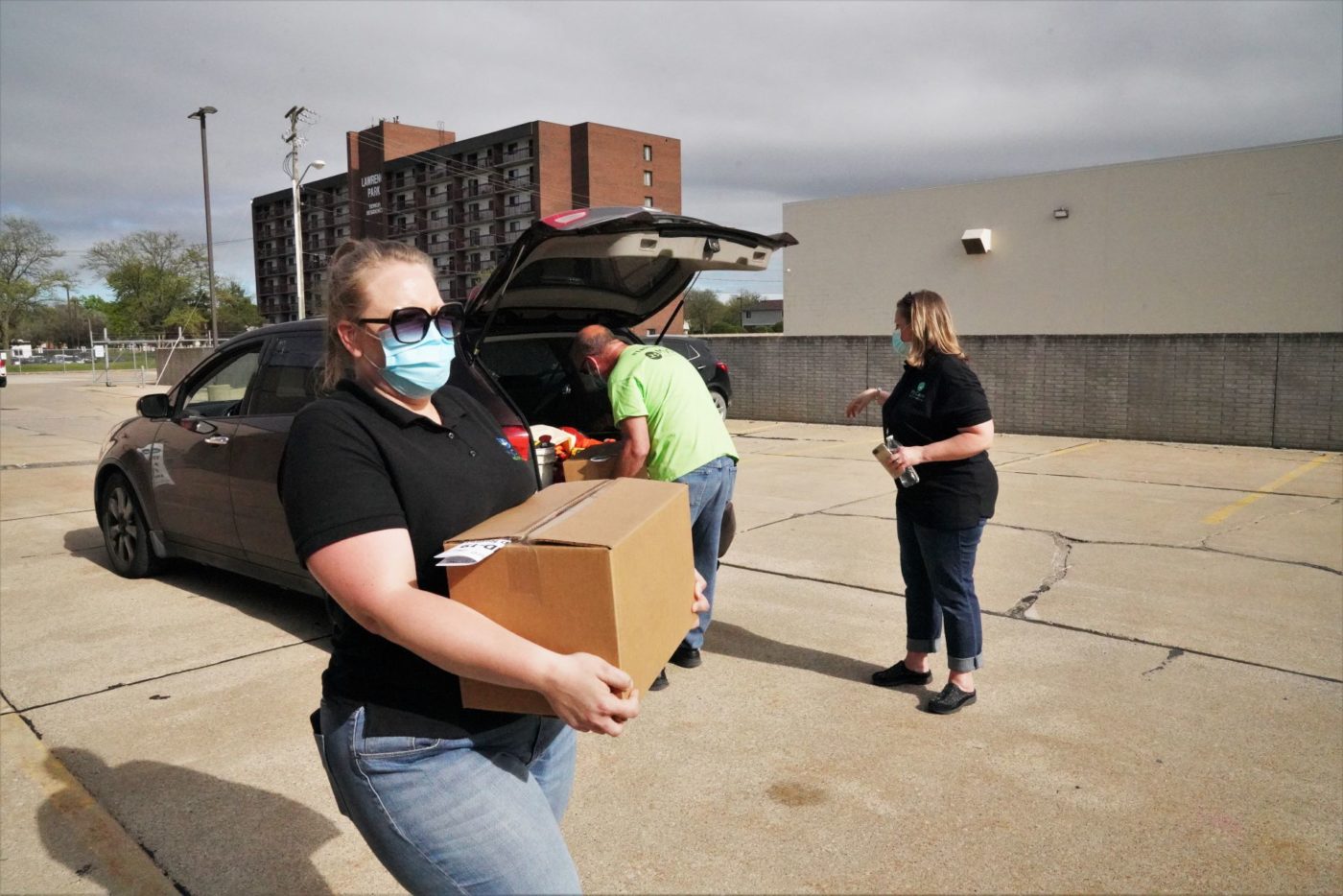 Gleaners has also formed new relationships with healthcare providers across southeast Michigan. MyCare Health Center's Centerline clinic hosted its first drive-up distribution in May. The evening event served more than 70 households, including their most vulnerable patients and seniors living in the neighboring Lawrence Park complex.
"Closing our doors was never an option. We have been busier than ever," said Joseph T. Naughton, Family Medicine specialist. "Our patient population is low-income, and will continue to struggle with layoffs. The opportunity to provide testing, mental healthcare, and now food—is a great way to show up and offer more to our patients."
Community Organizations
In Detroit's West Side, Auntie Na's Village has been a place of support and survival for decades. The organization's outreach programs support low-income families, as well as serve people with developmental disabilities, those recovering from drug addiction, and domestic violence survivors. When COVID-19 hit, the outreach center's facilities turned into an emergency food distribution hub. Six to seven days a week, Jolisha Johnson and several other staff members source and organize food while planning distribution routes across Wayne County. "The volume keeps going up," said Johnson. "We typically fly by the seat of our pants, but this situation is different. We sat down to plan, and we quickly were able to distribute to more than 400 houses a week."
Auntie Na's supplements the food boxes received from Gleaners with fresh produce, eggs, dairy, as well as pet food, cleaning supplies, and baby formula. Johnson's phone is constantly ringing with calls of more families in need and organizations asking for help. Her colleagues say she works day and night to ensure 1,500 individuals on the list receive tailored care and services.
"We are moved when we hear how this work is impacting families," said Lakshman Mulpuri, co-founder of Auntie Na's Student Organization at Wayne State. "It's offering a renewed sense of energy to build a stronger foundation for people to access better health. I believe that together we can not only stop the bleeding—but we can fix the issue for good. We cannot express the help we received from Gleaners. It inspires others in the community that they can do a lot more than they realize."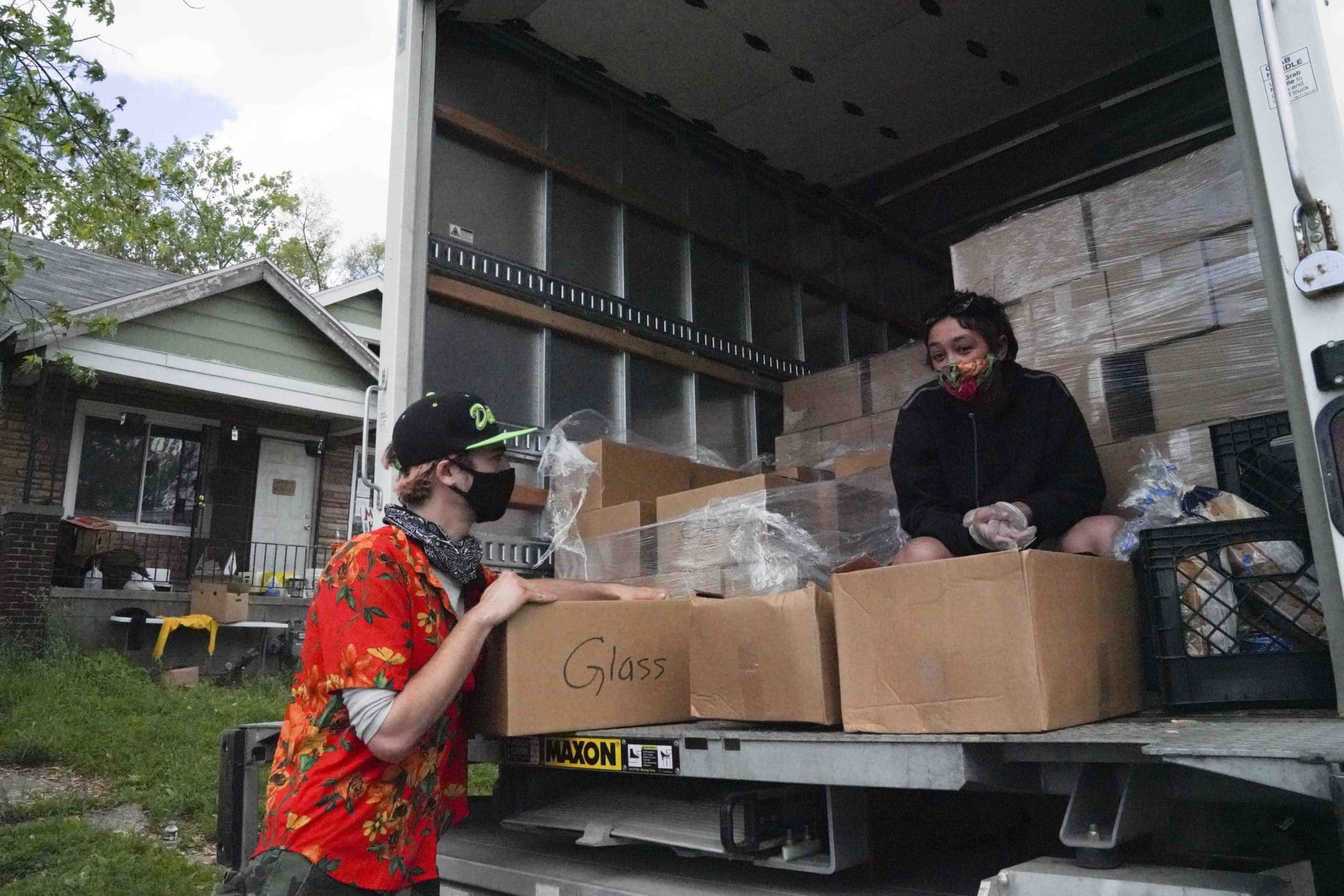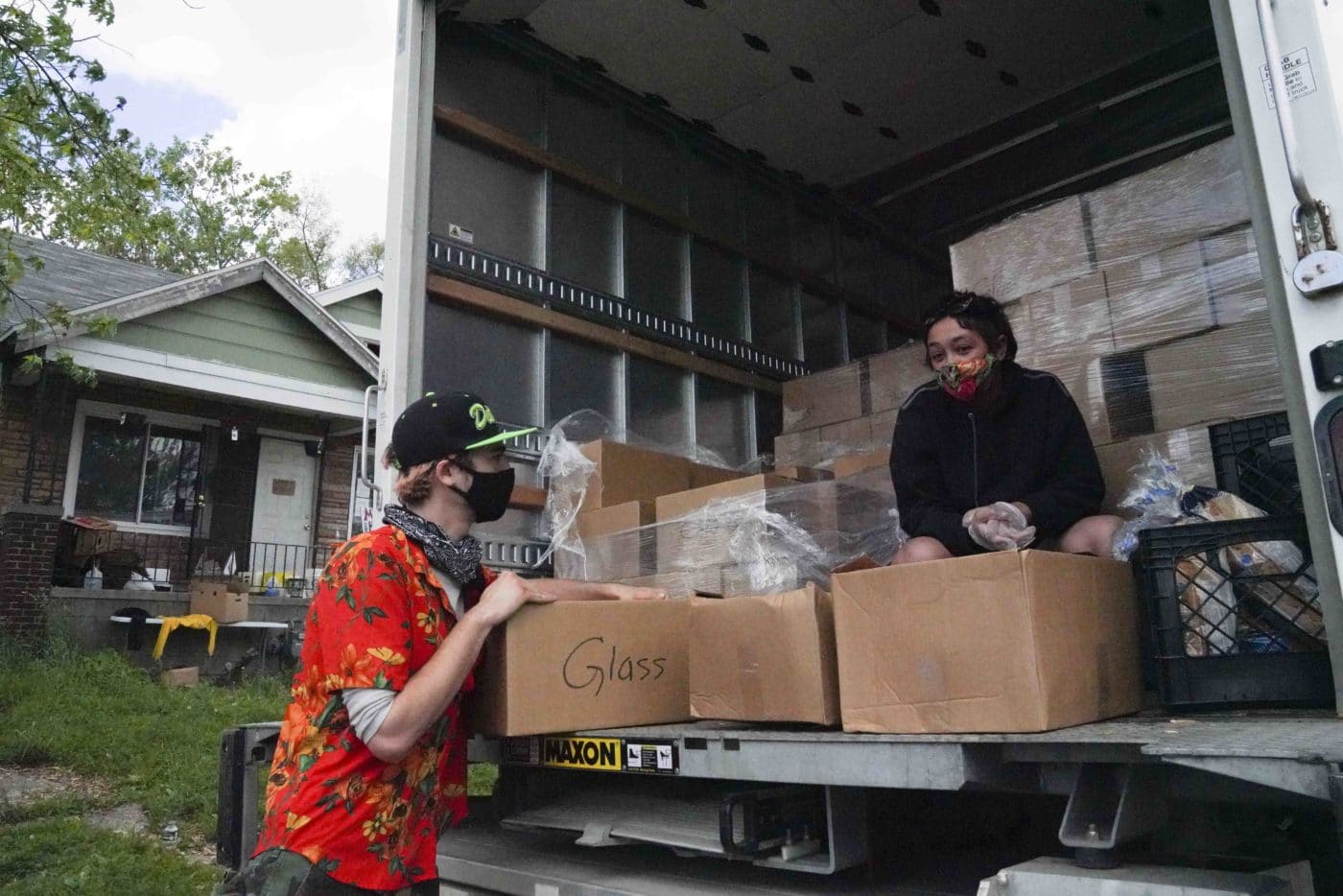 Gleaners helped Neighborhood Legal Services of Michigan (NLSM) launch its first food distribution in May. The organization provides a wide array of services for children, adults and seniors who have experienced homelessness, abuse and economic turmoil. During the COVID-19 pandemic, their office facilities in Detroit had to close, and hundreds of homeless individuals NLSM would have served were required to be tested before being routed to Coordinated Assessment Mode network for housing services. Setting up a food distribution was a way NLSM could continue to serve its community.
"Within one hour, we had more than 90 people receive food," said Leonard Sanchez, Executive Director. "Our mission is to provide services to promote safety and self-sufficiency. And we can see how food access plays a vital role."
Seniors
While Gleaners' Senior Food Mobiles and My Neighborhood Mobile Grocery programs continue to serve our elderly, our program staff is forging new partnerships to reach those who might not have access to nutritious food without being at risk. Since April, quarantine boxes have been packed and shipped across the state, reaching more than 35,000 seniors through 16 statewide Aging & Adult Services Agency, Detroit Housing Commission and more than 50 low-income senior residential complexes.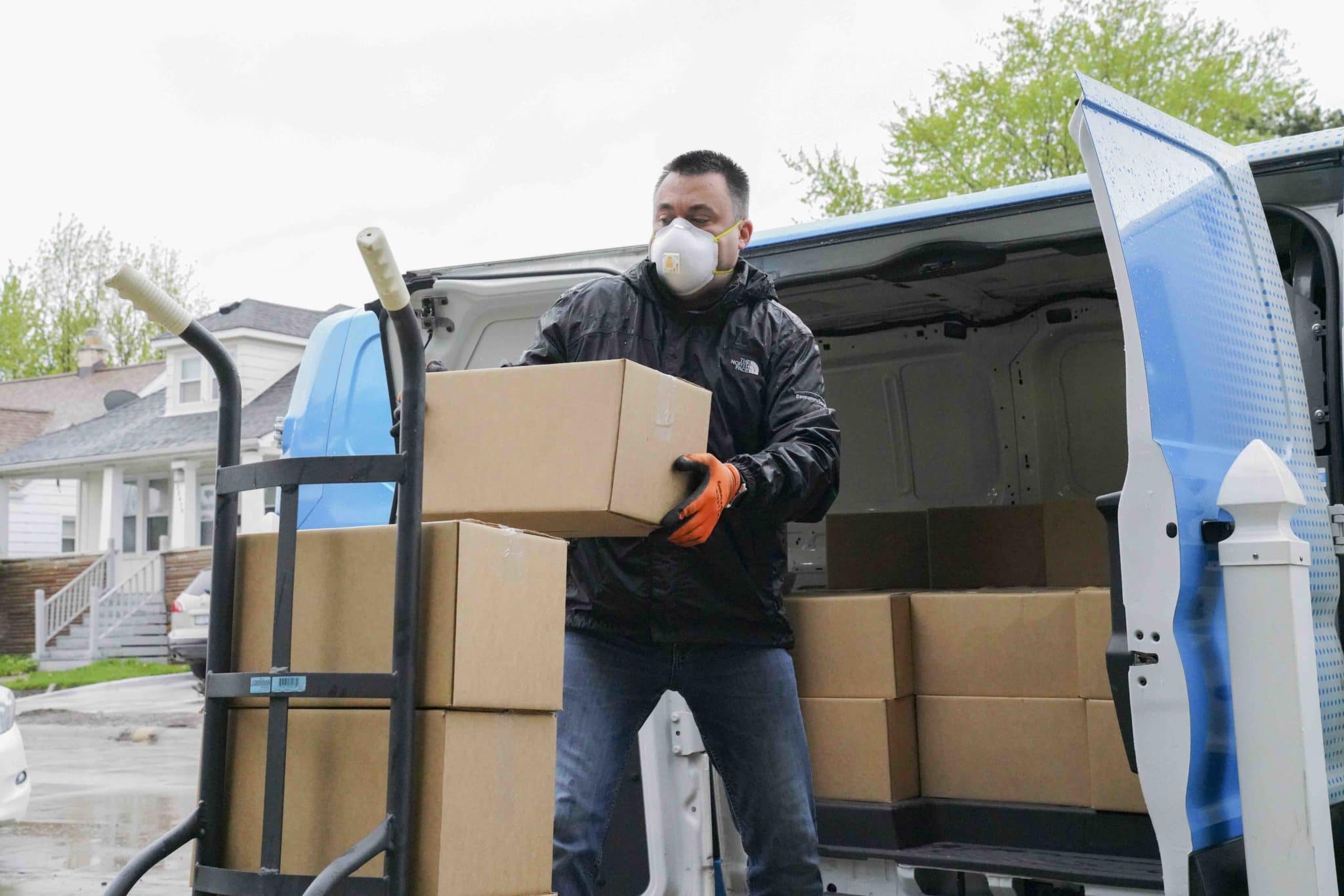 Emergency box distribution will continue through September, and we are grateful to have numerous partners and community services deliver right to the doorsteps of seniors in need. For example, our long-time partners at Consumers Energy helped deliver 784 boxes to 10 senior complexes across Gleaners' five-county service area.
Veterans
More than a million veterans of all ages struggle with access to sufficient food. Across the nation, more than half of all veterans live paycheck to paycheck. During the COVID-19 pandemic, this population needs our help more than ever. From Detroit to Howell, Gleaners is partnering with service providers to widen our reach to this diverse group. Through new and ongoing partnerships with area veteran centers and agencies, Gleaners has served more than 800 veterans with emergency food boxes.
Each year, Gleaners hosts our Warriors Against Hunger Food & Fund Drive, benefiting our partner agencies focused on serving veterans. Every $1 donated provides 3 meals for a veteran and their family. You can easily contribute online through our Virtual Food Drive.
Donate today, and your gift will be matched.
Gleaners' Hunger Free Summer Plus campaign is raising support for our expanded food distribution efforts. Every dollar given provides six meals for children, families, seniors and other vulnerable hungry neighbors.
According to Feeding America, southeast Michigan is experiencing an up to 5% increase in food insecurity in the wake of COVID-19. This means 212,000 additional people will face hunger in your community.
Gleaners is committed to serving as a reliable provider for our community and our partners, and our emergency response efforts continue to reach thousands of additional households each week.